Allergy Pictures and Discussion
On this page you can learn all about the potential sensitizers which we must avoid. To learn about alternative products which are non-allergenic or hypo-allergenic (less likely to cause allergies) visit my NON-TOXIC Page.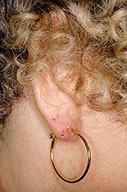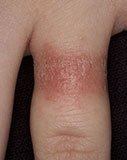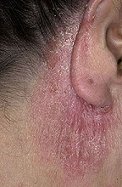 Dermatitis/Eczema is a catch all phrase that refers to a type of rash. Eczema can be red/swollen, seeping/wet, bleeding/scabbing, dry/cracked, scaled/crusting, bumpy/calloused, welts/blistering, intensly itchy, or a burning painful patch of skin. Usually a combination of these.

Contact Dermatitis, refers to an eczema that is the result of the direct contact of a substance to the skin. There are two different types of contact dermatitis. An irritant (such as an acid) can cause "Irritant Contact Dermatitis" which can affect anyone at all. An allergen can cause "Allergic Contact Dermatitis" but only affects those few people who have developed an allergy to it.

"Contact Allergy" is the disease, and "Dermatits/Eczema" is the symptom of the disease. Allergies do not develop at first contact with a substance. Our bodies take time to develop a hyper-sensitivity to a substance ... sometimes many years, which is why many of us were able to wear 14k. gold for decades before becoming allergic to it. However, once an allergy is activated, it only takes a touch to generate a reaction.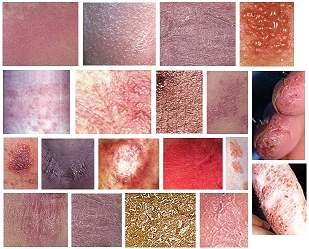 Click on pictures on this page for a larger view.


Allergies and their symptoms become worse, the more we expose ourselves to the allergen. Some allergies are impossible to desensitize from, which means once you are allergic to something, you will be so for life. It is not known why some people suffer from allergies, and some do not, however there is a specific list of common potential allergens (or sensitizers) that can affect all of us who are susceptible to allergies.

Obstaining from contact with an allergen is the only sure way to cure an active case of Eczema. If you continue contact with an allergen after Eczema appears, the condition can become much worse, even chronic. Chronic Eczema can last for years, even after you do finally remove the allergen. Additionally it can reactivate again in the future without additional contact.

Once the first symptom of an allergy appears (usually itching), it is best to avoid all potential allergens from contacting the eczema. This is so because the risk of sensitization is greater when the skin barrier is damaged, e.g when eczema is already present.

To make matters worse, the topical medications that we use (even those prescribed by the doctor) to help heal eczema, are themselves potential skin allergen sensitizers! This means that if you already have eczema from one allergen (alloyed jewelry) any other potential allergen can prevent you from healing, or even make the eczema worse AND give you a whole new allergy to heal from and avoid!!!

Therefore, over the counter steroid creams (cortaid, cortizone), antibiotic ointments (neosporin), and spray anesthetics (benzocaine) should be prevented from coming into contact with eczema. If the doctor wants to prescribe anti-biotics or corticosteroids, I'd personally ask for oral or intravenous medications instead, so to avoid further contact allergies.

It's quite a Conundrum! But there is hope. Below you will find the specific list of contact allergens that I have referenced above. This list is NOT a full list of all possible allergens, but it is a list of the most common. You'll have to become a label reader. You can click HERE to get a printable list without the details to take shopping with you.

Potential sensitizers that remain in contact with the skin can develop into allergens much more quickly than those that we rinse off. Here is the basic product list that you can find these sensitizers in (below is the full detailed list and chemical names of the common products, with pictures and details).

· Perfumes · Toilet water · Colognes · Masking perfumes · Unscented perfumes · Aroma chemicals · Essential oils · After shave lotions

· Skin Care · Deodorants and Antiperspirant · Baby powders · Sunscreens · Suntan lotions · Bronzers/self-tanners · Insect repellents · Cleansers and other skin care products · Hand creams · Lotions, Creams, and Moisturizers · Protective creams · Baby oils, Lubricants · Bath products · Sanitizers · Soaps

· Beauty · Cosmetics · Nail varnish · Hair dyes · Hairspray · Make-up removers · Shampoo and conditioners · Acid hair perming solution · Bubble baths · Soaps · Baby wipes · Rubber make-up sponges · Hair dye · Hair removing wax

· Clothing · Detergents and bleaches (on clothing) · Fabric softeners · Permanent press clothing· Anti-cling, anti-static, anti-wrinkle and anti-shrink fabric finishes · Dry cleaned clothing · Cleaning agents

· Rx · Homeopathic drugs · Topical antibacterial and antifungal medications · Steroid-containing creams/ointments · Neomycin or other related substances that you may react to include first-aid or antibiotic creams and ointments, eye and ear preparations ... Co-reacts with bacitracin · Topical dermatological medications · Antiseptic sprays · First-aid product (tincture of Merthiolate) · Antitoxins · Corticosteroids, cortisone, anti-inflammatory agents in creams, ointments, lotions. Topical steroids are also commonly found in combination preparations with antibacterials and antifungal agents.Disinfectants · OTC and prescription medicines · Elastic bandages · Fungicides · Blister creams and first-aid ointments) · Medicaments (disinfectants, insecticides, ointments, plasters, preservatives, proprietary medicaments) · Medications including wart remedies, anhidrotics, medicated creams · Amylcinnamic alcohol · Anisyl alcohol · Benzyl alcohol · Benzyl salicylate · Surgical dressings · Wound and burn preparations · Sunburn remedies · Creams for treatment of poison ivy · Barrier creams

· PVC products · Polyethylene · Plastic products · Rubber products · Plastic pillows and mattress covers · Elastic bands

· Alloys · Metal-plated objects · Costume jewellery

· Misc. · Medical items including hearing aids · Smoke · Earphones · Paper products (tissues, etc.)


Now that you understand a little bit about your skin allergies, you can understand why I insist that you put NOTHING on your eczema while you are trying to heal with my earrings in place! Niobium and Pure Grades of Titanium are NON-ALLERGENIC. So if your eczema won't heal with my healing earrings in place, your ears are either being exposed to other allergens, or you have a case of "chronic eczema" which won't go away whether you wear my healing earrings or non at all.



*****




Balsam of Peru
Other Names: · Balsamum peruvianim · Black balsam · China oil · Honduras balsam · Indian balsam · Peruvian balsam · Surinam balsam · Balsams, Peru · Balsam Peru oil · Oil balsam peru · Peru balsam · Peru balsam oil · Myroxylon pereirae klotzsch resin · Myroxylon pereirae klotzsch oil · Myrosperum pereira balsam Toluifera Pereira balsam . Balm

Where is it found: Balsam of Peru is not only used for its aromatic and fixative (i.e. delays evaporation) properties but also for its mild antibacterial, antifungal and antiparasitic attributes. It has 3 main uses: fragrance in perfumes and toiletries; flavouring in food and drink; healing properties in medicinal products. Here are some of the products that may contain Balsam of Peru and/or chemically related substances.

Perfumes · Deodorants · After shave lotions · Cosmetics · Medicinal creams and ointments · Baby powders · Sunscreens · Suntan lotions · Shampoo and conditioners · Spices, e.g. cinnamon, cloves, vanilla, nutmeg, paprika, curry · Haemorrhoidal suppositories and ointment e.g., Anusol™ · Tincture of benzoin · Wound spray · Calamine lotion · Dental cement · Cough medicine, lozenges · Lip preparations · Insect repellents · Surgical dressings · Toothpaste and mouthwash



*****



Benzocaine
Other Names: · Ethyl aminobenzoate · Ethyl 4-aminobenzoate · 4-aminobenzoic acid ethyl ester p-aminobenzoic acid ethyl ester






Where is it found: Benzocaine is a widely used local and topical anaesthetic. It is used in pharmaceutical preparations and rarely cosmetics. Doctors and dentists use benzocaine preparations, especially on mucosal surfaces such as the mouth, to prepare or 'numb' a site for injection. Benzocaine is a para-aminobenzoic acid (PABA) derivative and cross-reacts with other benzoic acid derived local anaesthetics (both topical and injectable forms). It also has the potential to cross-react with paraphenylenediamine found in permanent hair dyes, sulfonamides, sulfonylureas, PABA-based suncreens, and thiazide-related diuretics.

Wound and burn preparations · Sunburn remedies · Haemorrhoidal preparations · Oral and gingival products · Sore throat sprays/lozenges · Callous and wart remedies · Creams for treatment of poison ivy · Toothache and denture irritation products



*****



Chrome (Chromium) ~ highly allergenic
Other Names: · Chromates · Chromium · Chromium salt · Potassium dichromate · Chromium sulphate Chromite






Where is it found: It is the chromium salts (chromates) used as an ingredient in the manufacture of many other products such as cement, mortar, leather, paints and anticorrosives that are the cause of chrome sensitivity. · Chrome-tanned leather goods including shoes, gloves and other wearable items and accessories · Cosmetics containing chromate-containing pigment (usually yellow-green colours) · Disinfecting and bleaching agents where chromates are used for colour and stabilizing properties · Safety matches, chromates commonly found in unlit and charred match heads · Green felt fabric used to cover snooker and card tables, chromates used in fabric dye · Paints, chromates used in anti-rust primer paints and also in the pigments for green-yellow paints · Tattoos containing chromate-containing pigment (usually yellow-green colours) · Radiator coolants, chromates used to stop rusting · Internal exposure from dental or orthopaedic implants that contain chromates Chrome-plated materials, unlikely to be the cause of allergic dermatitis. Further investigation usually reveals nickel as the offending agent

· Anticorrosives · Anti-rust coatings · Anti-rust primer paints · Ashes · Artificial flowers · Batteries · Bleachers · Boiler linings · Ceramics · Cigarettes · Cement · Coolant oils · Cosmetics (mascara/eye shadow) · Cutting oils · Defatting solvent · Detergents and bleaches · Dyes (textile) · Enamel · Engraving solutions · Explosives · Fabrics · Foundry sand · Furniture polishes · Glues · Green baize for cards, snooker, billiard table tops · Homeopathic drugs · Ink · Leather goods (e.g. gloves, shoes, hats, wallets, bags, clothes) · Magnetic tapes · Matches (safety) · Metal alloys · Milk testers · Mortar · Newspaper · Offset printing · Oil from metal working · Orthopaedic pins or screws · Pacemaker · Paint · Paper (photocopy paper) · Photography · Polishes & waxes (shoes, floor, etc) · Postage stamps · Quicklime · Refractory materials · Rubber gloves · Shoe polish · Shoes · Solvent · Surgical (chromic) gut suture · Tattoo dye · Test reagent (laboratory) · Textile dyes · TV screens · Welding · Wood preservatives



*****



Clioquinol
Other Names: · Iodochlorhydroxyquin · Iodochloroxyquinoline · Iodochlorohydroxyquinoline · Chloroiodoquine Vioform

Where is it found: Clioquinol is a quinoline compound that has antibacterial and antifungal properties. It is found in topical preparations to treat skin infections such as infected eczema, athlete's foot and other fungal infections. It is also found in combination preparations with hydrocortisone. It can be found in eye and ear preparations. Other quinoline compounds available include diiodohydroxyquinoline, chlorquinaldol and chlorhydroxyquinoline.



*****



Cobalt ~ highly allergenic
Other Names: · Cobalt dichloride, hexahydrate · Cobalt (II) chloride-hexahydrate · Cobalt blue Cobaltous chloride hexahydrate

Where is it found: Cobalt is a metal found naturally in soil, dust, and seawater. Nickel and cobalt are always found together in alloys and salts because it is too costly and impracticable to separate these two metals. Combined allergic reactions are not uncommon and represent simultaneous specific sensitisations to each individual metal as opposed to being cross-reactions

Cobalt blue pigment in porcelain, glass, pottery, ceramics and enamels · Cobalt blue in blue and green water colour paints and crayons · Metal-plated objects · Buckles · Buttons · Zippers · Snaps · Costume jewellery · Utensils · Tools · Medical uses · Vitamin B12 preparations for the treatment of anaemia · Metal prostheses · Dental plates · Hair dyes; cobalt pigment produces light brown shades of hair · Alloys · Buttons · Buckles · Carbide · Ceramics · Cement · Clay · Cosmetics · Costume jewellery · Cutting tools · Dental plates · Detergents · Flypapers · Glass · Hair dye · Kitchen utensils · Metal prostheses · Oils · Paints · Pottery · Polyester resin · Printing inks · Rock drills · Rubber tires · Tools · Vitamin B12 · Zippers * Antiperspirant preparations



*****



Coconut diethanolamide
Other Names: · Coconut diethanolamine · Coconut oil diethanolamine · Coconut oil acid · Cocamide DEA · Ninol · Witcamide Calamide

Where is it found: Coconut diethanolamide is a widely used surface active agent which helps to stabilise the foam in hand gels, hand-washing liquids, shampoos and dish-washing liquids. It is manufactured from coconut oil and is a non-ionic surfactant.

All purpose cleaners · Barrier creams · Bath products · Cooling fluids · Cosmetics · Dish washing detergents · Disinfectants · Hand soaps · Hand washing liquids · Hydraulic mining oil · Industrial cleaners · Laundry detergents · Metalworking fluids · Sanitizers · Shampoo



*****



Colophony (Rosin)
Other Names: · Colophony · Resin terebinthinae · Tall oil · Abietic acid · Methyl abietate alcohol · Abietic alcohol Abietyl alcohol






Where is it found: · Rosin, also known as colophony, is the sap or sticky substance that comes from pine and spruce trees. Its "stickiness" lends itself to being used in a wide range of products.

· Cosmetics (e.g. mascaras, lipsticks, eyeshadows, concealer creams, nail varnish) · Adhesives (e.g. sticking plasters and tapes, glues) · Medicines (e.g. wart removers, cold sore creams, ostomy products, nappy creams, haemorrhoid creams, sprays) · Toiletries (e.g.. transparent soaps, hair removing wax, dental floss, sunscreens, blister creams and first-aid ointments) · Household items (e.g. grease removers for clothes, shoe wax, polish for floors, cars and furniture, laundry soaps, fly strips) · Recreational (e.g. sport racket handles, athletic grip aids, golf club grips, bows for stringed instruments, fireworks, ski wax) · Chewing gum · Firewood and pine trees in the garden Paper products: one of the largest single uses of colophony is in the manufacture of paper and paperboard

· Adhesive products · Adhesive tapes and plasters (salicylic acid plasters, opsite) · Brewery pitch · Caulking compounds · Cements (lens coating, linoleum, rubber, shoe, thermoplastic tiles) · Chewing gum · Modeling clay · Cleaners and lubricants (clothing, leather, office machines) · Clothing (prewashes, tackifier) · Cosmetics (brilliantine, depilatory waxes, eyeshadow, hair pomades and sprays, nail varnish, mascara, rouge) · Dentistry (antiseptics in root canal treatment, dental cements, impression pastes, liquids and cavity varnishes) · Dancing (athletic grips, floors of studios, dancing shoes) · Fillers (putty and wood) · Fireworks · Flexible collodium · Glues, mastics and sealants · Grease and lubricant thickeners; axle grease · Insulation tape (electrical and thermal insulating tape) · Inks (ceramic, marking pens, printing) · Jointing tape · Linoleum (adhesive bedding and cements, floor covering, tiles) · Match tips · Medicaments (disinfectants, insecticides, ointments, plasters, preservatives, proprietary medicaments) · Newspaper · Oils (core oil, cutting oil, tall oil) · Ostomy appliances · Paper (glossy paper, photographic paper, plastics, price labels, stickers) · Pens (felt tip, water-fast artist pens) · Plastics (surface coating) · Polishes (car, coffee beans, floor, furniture, metal, shoe) · Polyethylene · Postage stamps (adhesive) · Printing (ink, paper, photographs, etc) · Resins · Soldering fluxes, soldering agents · Solvents · Stains (furniture, wood) · Surface coatings (beer casks, rustproof coating, coatings on price labels, cans, paper) · Tackifier (athletic/sport grips, sticky fly paper, stringed instruments, dancer's shoes, machine belts, postage stamps, etc) · Tapes (industrial, medical) · Varnishes · Veterinary products (see medicaments, dog repellants, diuretic) · Waterproofing (cardboard, oil cloth, walls) · Waxes (car, grafting, floor, furniture, physiotherapy, sealing, shoemakers, ski, tree, etc) · Rubber (emulsifier, reclaiming agent, tire-compounding) · Sawdust (pine and spruce) · Sealants (dental root canal, wood swellers) · Shoes (adhesive) · Soaps



*****



Epoxy Resin (uncured epoxy)
Other Names: · Bisphenol A [2,2-bis(4-hydroxyphenyl)propane] (diphenylpropane) · Diglycidyl ether · Epichlorohydrin (1-chloro-2,3-epoxypropane) (8-chloropropylene oxide) 4,4'-Isopropylidenediphenol-epichlorohydrin





Where is it found: Epoxy resin is a chemical that is part of an epoxy resin system. Epoxy resin systems are used widely in industry because of their strong adhesive properties, chemical resistance and toughness. Common two-part epoxy resin systems contain epoxy resin, catalysts/curing agents, and diluents and/or other additives. Any of these chemicals on their own may cause irritant and/or allergic contact reactions. Cured epoxy resin (the fully hardened combination of the epoxy resin system chemicals) should be non-irritating and non-sensitising.

Adhesives · Adhesive tapes · Appliance finishes · Automotive primers · Bridge coatings · Dental bonding agents · Electrical insulation materials · Flame retardants · Flooring and wall panel coatings · Glues · Inks · Laminates · Model making · Paints and primers · Plastic products · PVC products · Surface coatings · Varnishes · Vinyl products · Tools and die casting



*****



Ethylenediamine
Other Names: · Ethylenediamine dihydrochloride · 1,2-Ethanediamine dihydrochloride · 1,2-Diaminoethane dihydrochloride Chlorethamine

Where is it found: Ethylenediamine is a potent sensitiser used in topical antibiotic/steroid creams for its chemical stabilizing properties. It has been commonly found that individuals whom show a positive patch test reaction to ethylenediamine have used at some stage during their lifetime Kenacort® Cream (or in the USA, Mycolog Cream®), a popular broad-spectrum antifungal/steroid cream, or one of its generic preparations.

Although ethylenediamine has now been removed from Mycolog Cream® there are possibly generic preparations or other similar formulations that may still contain the allergen. Ethylenediamine is rarely found in cosmetics and toiletries. Ethylenediamine is also an ingredient of aminophylline, a xanthine bronchodilator used in the treatment of asthma and other respiratory problems. Other medications where ethylenediamine or its derivatives are found include some antihistamine and anti-nausea agents.



*****



Formaldehyde
Other Names: · Formalin · Methanal · Methyl aldehyde · Methylene oxide · Morbicid acid Oxymethylene





Where is it found: Formaldehyde is a chemical that is used widely across many products in our environment. It would be difficult to list all the possible sources of formaldehyde; the table below shows some of the more common sources of formaldehyde exposure. Formaldehyde is not only a sensitiser but also a potent primary irritant.

Fabrics treated with formaldehyde resins provide the unique qualities of the following fabrics: · Permanent press · Anti-cling, anti-static, anti-wrinkle and anti-shrink finishes · Chlorine-resistant finishes · Stiffening on lightweight nylon knits · Waterproof finishes · Perspiration proof finishes · Moth proof and mildew resistant finishes · Suede and chamois · Cosmetics and toiletries including fingernail polishers and hardeners, antiperspirants, makeup, bubble bath, bath oils, shampoos, creams, mouthwashes and deodorants. Medications including wart remedies, anhidrotics, medicated creams, orthopaedic casts and root canal preparation disinfectant

· Anhidrotics and antiperspirants · Clothing made from fabrics finished with formaldehyde resins · Cosmetics and toiletries · Disinfectants and cleaning agents · Fabric and textiles · Glues, pastes · Medications · Mildew preventative in fruits and vegetables · Paints and primers · Paper products · Phenolic resins and urea plastics found in buttons, footwear and jewelry · Photographic plates · Polishes · Preservatives · Printing/etching materials · Rubber cements · Smoke · Tanning agents · Toxoids and vaccines



*****



Fragrance Mix (Perfume)
Other Names: Cinnamic alcohol Cinnamic aldehyde Alpha amyl cinnamic aldehyde Eugenol Isoeugenol Hydroxycitronellal Geraniol Oak moss absolute





Where is it found: There are more than 5000 different fragrances that are in use today. In any one product the number of fragrances used can be many. Fortunately only a small number of fragrances are actually common sensitisers and cause allergy in sensitive individuals. Be wary of products that are labelled "fragrance free" or "unscented" as these terms may not necessarily mean they do not contain fragrance chemicals, they just imply the product has no perceptible odour. These products may possibly contain a masking fragrance that is used to cover up the odour of other ingredients. Note that clothes washed in scented laundry detergent can be a problem with prolonged skin contact of the garment in the presence of moisture and heat. It would be best to use fragrance-free laundry detergent.

  Perfumes · Toilet water · Colognes · Masking perfumes · Unscented perfumes · Aroma chemicals · Essential oils · Amylcinnamic alcohol · Anisyl alcohol · Benzyl alcohol · Benzyl salicylate · Cinnamic alcohol · Cinnamic aldehyde · Coumarin · Eugenol · Geraniol · Hydroxycitronellal · Isoeugenol · Musk ambrette · Oak moss absolute · Sandalwood oil · Wood tars · Balsam of Peru · Cassia oil · Cinnamon · Cloves · Citronella candles · Ethylene bassylate



*****



Glyceryl Thioglycate (acid hair perming solution)
Other Names: · Glycerol monomercaptoacetate · Glyceryl thioglycolate · Glycerol monothioglycolate · Acid permanent waves Hot permanent waves

Where is it found:  Glyceryl monothioglycolate is a chemical substance that is used in permanent wave (perming) solutions. The use of glyceryl monothioglycolate in perming solutions was developed in the 1970s. Known as an acid perm, glyceryl monothioglycolate works by breaking the disulfide links between the polypeptide bonds in the keratin (the protein structure) in the hair wrapped in rods. Heat is applied via a hairdryer and this activates the perm process causing the bonds to reform in the shape of a curl.

Glyceryl monthioglycolate contains no ammonia, hence this type of perm is not associated with the smell that alkaline perms have. In addition, acid perms are gentler to the hair, hence more suitable for delicate or thinner hair.



*****



Isothiazolinone Mix
Other Names: Preservative · Kathon®, Kathon CG®, Kathon 886® · Methylchloroisothiazolinone (MCI) Methylisothiazolinone (MI)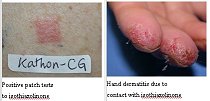 Where is it found: Isothiazolinone mix includes the compounds 2-methyl-4-isothiazolin-3-one and 5-chloro-2-methyl-4-isothiazolin-3-one. They are used together as a preservative in cosmetics and commercial household products such as shampoos, cleaners and washing materials. It also has wide industrial uses. Isothiazolinone mix is more commonly known as the preservative product with the commercial name Kathon.

Foundations/concealers · Bronzers/self-tanners · Eye shadows · Mascaras · Make-up removers · Moisturizers · Sunscreens · Shampoos/conditioners · Bubble baths · Soaps · Baby wipes · Creams/lotions/gels · OTC and prescription medicines · Detergents/cleaners · Fabric softeners · Polishes · Pesticides · Paints · Adhesives/glues · Latex emulsions · Radiography · Curing agents · Jet fuels · Printing inks



*****



Lanolin
Other Names: · Adeps lanae anhydrous · Aloholes lanae · Amerchol · Anhydrous lanolin · Wool Alcohols · Wool fat · Wool grease Wool wax

Where is it found: Lanolin is a natural product obtained from the fleece of sheep. Sebum is extracted from the wool, cleaned and refined to produce anhydrous lanolin. This comprises 3 parts, wool alcohols, fatty alcohols and fatty acids. Currently the wool alcohols are considered the main sensitisers in lanolin but whether they are the sole sensitisers, needs further investigation. Nowadays there is also chemically modified lanolin that may be less sensitising than natural lanolin.

· Steroid-containing creams/ointments · Haemorrhoidal preparations · Medicated shampoos · Veterinary products · Liniments · Hand creams · Moisturizers · Protective creams · Self-tanners · Sunscreens · Glossy lipsticks · Makeup removers · Foundations, powders · Eye makeup · Hairspray · Shaving creams · Baby oils, diaper lotions · Printing ink · Furniture and shoe polishers · Textile finishers · Lubricants, cutting fluids · Paper · Leather



*****



Latex & Rubber Accelerators
Other Names: · Benzothiazoles · 2-Mercaptobenzothiazole · N-cyclohexyl-2-benzothiazolesulfenamide · Dibenzothiazyl disulfide · Morpholinylmercaptobenzothiazole · Carba chemicals · Dithiocarbamates · Zinc diethyldithiocarbamate · Zinc dibutyldithiocarbamate · Diphenylguanidine · Thiurams · tetramethylthiuram monosulfide · tetramethylthiuram disulfide · tetraethylthiuram disulfide · dipentamethylenethiuram disulfide · Hexamethylenetetramine (methenamine) · accelerators · activators · antidegradants (antioxidants, antiozonants) · vulcanizing agents · retarders · reinforcing agents · fillers · pigments · processing aids · blowing agents





Where is it found: Over 90% of natural rubber comes from the latex, or milky sap, of the rubber tree - Hevea brasiliensis. Latex is used in a large number of products including adhesives, foam, carpet backing and in a number of "dipped" products. Dipped products include gloves, catheters, condoms, balloons, etc. Natural latex rubber is also found in toys, erasers, sports equipment, clothing, elastic bands, and many medical and dental devices. Allergic reactions to rubber can be due to allergy to natural latex sap or to one of the many chemicals used in the manufacturing of rubber.

· rubber "crock" shoes · anti-slip carpet backing · balloons · elastic bands · garden hoses and gloves · kitchen gloves · pillows and mattresses · rubber gloves · rubber handled sports equipment, e.g. golf club and raquet tennis racquet handles · rubber handles (e.g. bicycles, car steering wheel) · rubber kitchen utensils · rubber swim caps and goggles · elastic in underwear and swimwear · rubber boots · sport shoes · slippers · rubber insoles of shoes · elasticised waistbands · brassiere cups · rubber make-up sponges · diaphragms · rubber latex condoms · thiuram is in the oral drug Antabuse (used to treat alcoholism) · commercial and agricultural fungicides and pesticides · conveyor belts · dental dams · earphones · elastic bandages · electrical cords · examination and surgical gloves · gas masks · lining for fuel tanks · protective rubber aprons · rubber hoses, seals and cables · rubber mats · rubber stoppers in medical syringes · rubber tires and tubes · safety goggles · shock absorbers · springs · stethoscopes veterinary products, e.g. flea and tick sprays/powders



*****



Neomycin
Other Names: Neomycin sulphate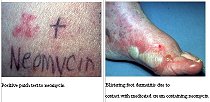 Where is it found: Neomycin is an antibacterial that is used widely in topical creams, ointments, lotions, eye preparations and eardrops. It is also commonly found in combination preparations with other antibacterials and corticosteroids. It is also found in: Vaccines containing neomycin · M-M-R II®, Fluvirin® Influenza Virus Vaccine, MUMPSVAX®, Inpol® Inactivated Polio Vaccine, Imovax® Rabies Vaccine Adsorbed Other potential sources of exposure · Rarely deodorants, soaps and cosmetics · Dental root canal work · Pet foods Veterinary products

Atopic dermatitis is often treated with topical combination preparations of neomycin and corticosteroids and it is only when the original condition doesn't improve or the condition becomes worse that neomycin sensitivity is suspected. Sometimes the appearance of the superimposed neomycin allergy may be modified by the corticosteroid component of the combination preparation used to treat the atopic dermatitis, thus making the diagnosis difficult. Neomycin taken orally or by injection may sometimes cause severe allergic reactions that can be life-threatening in neomycin-sensitive individuals.

Allergy to neomycin may make you sensitive to other related compounds. As a precaution you should avoid using products containing any of these substances.

Cross Reactions & Related Products: Carefully read the labels of all products for possible sensitisers. Over-the-counter products containing neomycin or other related substances that you may react to include first-aid or antibiotic creams and ointments, eye and ear preparations. · Framycetin · Gentamicin · Kanamycin · Paromomycin · Spectinomycin · Streptomycin · Tobramycin Co-reacts with bacitracin



*****



Nickel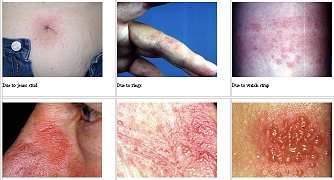 Where is it found: Nickel allergy is one of the most common causes of contact allergic dermatitis. In affected individuals, dermatitis (eczema) develops in places where nickel-containing metal is touching the skin. The most common sites are the earlobes (from earrings), the wrists (from a watch strap) and the lower abdomen (from a jeans stud); the affected areas become intensely itchy and may become red and blistered (acute dermatitis) or dry, thickened and pigmented (chronic dermatitis). It has been suggested that in some, dyshidrotic hand dermatitis is due to nickel in the diet. Unfortunately it is not possible to avoid ingesting nickel as it is present in most foodstuffs. A low-nickel diet is only rarely helpful.

Jewellery: Necklaces, necklace-clips, earrings, bracelets, watch-straps and rings may contain nickel. "Hypoallergenic", solid gold (12 carat or more) and silver jewellery should be safe. Nine carat gold and white gold both contain nickel. Plastic covers for earring studs can be obtained. Coating the stud with nail varnish is not recommended.

Clothing: Metal zips, bra hooks, suspender clips, hair-pins, buttons, studs, spectacle frames etc. are likely to contain nickel. Use substitutes made of plastic, coated or painted metal or some other material.

Personal articles: Consider lipstick holders, powder compacts, handbag catches, cigarette lighters, razors, keys, key rings, pocket knives, pens as potential causes of dermatitis.

Metal items in the home: Cupboard handles, kitchen utensils, cutlery, toaster, metal teapots, scissors, needles, pins, thimble, vacuum cleaners, torches, bath plugs... may all contain nickel. Choose tools with plastic handles. Stainless steel does not usually cause dermatitis unless it is nickel-plated.

Money: Silver coins are composed of cupro-nickel. Cashiers with nickel allergy may develop hand dermatitis from this source. Wear gloves to handle money or pay with a credit card or cheque.

Food: Canned spaghetti & baked beans Green beans, broccoli, peas including split peas, canned vegetables Canned fruit, dried fruit, nuts Cocoa, drinking chocolate, chocolate.



*****



Parabens
Other Names: methyl-4-hydroxybenzoate, ethyl-4-hydroxybenzoate, propyl-4-hydroxybenzoate, butyl-4-hydroxybenzoate · Methylparaben · Ethylparaben · Propylparaben · Butylparaben · Benzyl-parahydroxybenzoic acid (p-hydroxybenzoic acid) · Methyl-parahydroxybenzoic acid (p-hydroxybenzoic acid) · Ethyl-parahydroxybenzoic acid (p-hydroxybenzoic acid) · Propyl-parahydroxybenzoic acid (p-hydroxybenzoic acid) · Butyl-parahydroxybenzoic acid (p-hydroxybenzoic acid) · Parahydroxybenzoic acid (p-hydroxybenzoic acid) Parahydroxybenzoate (p-hydroxybenzoate)


Where is it found: fats, shoe polishes, textiles and glues. Two or more paraben esters are often found in the one product so it is useful to test paraben sensitivity with paraben mix, as there is a high incidence of cross-reactions between the esters. Products commonly containing paraben preservatives

· Foundations, powders, concealers · Eye makeup (liners, shadows, mascara) · Facial makeup (blushes) · Bronzes · Makeup removers · Lipstick · Quick-dry nail products · Topical dermatological medications · Eye, ear and nose drops · Rectal and vaginal medications · Bandages · Local anaesthetics · Moisturizing lotions and creams · Dentifrices · Sunscreens · Cleansers and other skin care products · Antiperspirants and deodorants · Soaps and toothpastes · Marinated fish products · Salad dressings · Mayonnaise · Mustard · Spiced sauces · Processed vegetables · Frozen dairy products · Jams and jellies · Soft drinks and fruit juices · Baked goods and candies



*****



Paraphenylenediamine
Other Names: · PPD or PPDA · Phenylenediamine base · p-Phenylenediamine · 4-Phenylenediamine · 1,4-Phenylenediamine · 4-Benzenediamine · 1,4-Benzenediamine · para-Diaminobenzene (p-Diaminobenzene) · para-Aminoaniline (p-Aminoaniline) · Orsin™ · Rodol™ Ursol™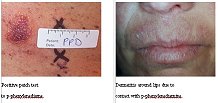 Where is it found: Paraphenylenediamine (PPD) is a chemical substance that is widely used as a permanent hair dye. It may also been found in textile or fur dyes, dark coloured cosmetics, temporary tattoos, photographic developer and lithography plates, photocopying and printing inks, black rubber, oils, greases and gasoline.

The use of PPD as a hair dye is popular because it is a permanent dye that gives a natural look. Hair can also be shampooed without becoming decoloured and perming to achieve waves or curls can be done without difficulty. PPD hair dyes usually come packaged as 2 bottles, one containing the PPD dye preparation and the other containing the developer or oxidizer. PPD is a colourless substance that requires oxygen for it to become coloured. It is this intermediate, partially oxidised state that may cause allergy in sensitive individuals. Fully oxidized PPD is not a sensitiser thus individuals with PPD allergy can wear wigs or fur coats dyed with PPD safely.



*****



Para-tertiary butylphenol Formaldehyde Resin (PTBP):
Other Names: · p-tert- butylphenol formaldehyde resin · PTBP formaldehyde · Butylphen · 4 (1,1-dimethylethyl) phenol 4-tert-Butylphenolformaldehyde resin

Where is it found: PTBP formaldehyde resin is a phenol-formaldehyde resin that is mainly used in adhesives. It is ideally suited for this because it has very good binding qualities and has a particular tackiness for the surfaces of leather and rubber. For these reasons, PTBP formaldehyde is principally found in glued leather goods such as shoes, handbags, belts and watchstraps. Other sources of PTBP formaldehyde resin include, DIY glues, varnish and lacquer resins, motor oil additives, rubber antioxidants, printing inks, fibreglass products, plywood, masonry sealant, insecticides, and deodorants and commercial disinfectants.

· Adhesives · Adhesive tapes · Automobiles · Commercial deodorants and disinfectants · Dental bonding materials · Fibreglass products · Film developers · Glues (DIY glues) · Insecticides · Insulation materials · Inks · Leather products · Masonry sealant · Medical items including hearing aids, prosthesis, athletic tape · Plywood · Rubber products · Varnishes



*****



Plants
Other Names: · Acacia · Alstromeria · Arnica · Artichoke · Asparagus · Blackwood · Cashew Nut · Cedar · Celery · Chamomile · Chestnut · Chives · Chrysanthenum · Citron · Cow parsnip · Cyprus · Daffodil · Dandelion · Dogtooth violet · English ivy · Fig · French marigold · Garlic · Geranium · Giant hogweed · Ginkgo biloba · Grevillea · Hogweed · Hogweed, giant · Horse chestnut · Ivy · Kanuka · Kiwifruit · Lavender · Leek · Lemon · Lettuce · Leyland cyprus · Lichens · Lily · Lime · Liverworts · Mango · Manuka · Marigold · Mint · Ongaonga · Onion · Parsley · Parsnip · Peruvian lily · Primula · Radiata pine · Ragweed · Ragwort · Rhus tree · Seaweed · Strawflower · Sunflower · Tree fern · Tea tree · Toxicodendron · Tulip · Tree nettle · Umbrella tree · Western red cedar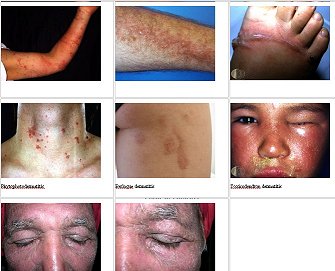 Where is it found: It is not always obvious which plant is responsible for a flare-up of the dermatitis (also known as eczema). Sometimes a rash may develop without direct contact with the plant; the juices may be on clothing or the fingers. A plant cause for dermatitis is suspected when there is a linear or streaky pattern. It is nearly always asymmetrical.

Acacia · Alstromeria · Arnica · Artichoke · Asparagus · Blackwood · Cashew Nut · Cedar · Celery · Chamomile · Chestnut · Chives · Chrysanthenum · Citron · Cow parsnip · Cyprus · Daffodil · Dandelion · Dogtooth violet · English ivy · Fig · French marigold · Garlic · Geranium · Giant hogweed · Ginkgo biloba · Grevillea · Hogweed · Hogweed, giant · Horse chestnut · Ivy · Kanuka · Kiwifruit · Lavender · Leek · Lemon · Lettuce · Leyland cyprus · Lichens · Lily · Lime · Liverworts · Mango · Manuka · Marigold · Mint · Ongaonga · Onion · Parsley · Parsnip · Peruvian lily · Primula · Radiata pine · Ragweed · Ragwort · Rhus tree · Seaweed · Strawflower · Sunflower · Tree fern · Tea tree · Toxicodendron · Tulip · Tree nettle · Umbrella tree · Western red cedar



*****



Quaternium-15
Other Names: · Imidazolidinyl urea (Germall®) · Diazolidinyl urea (Germall II®) · DMDM hydantoin (Glydant®) · Bromonitropropane diol (Bronopol™) * Tris (hydroxymethyl) nitromethane (Tris Nitro®) · Azonium-adamantane chlorid · N-(3-chloroallyl) hexaminium chloride · Chloroallyl methenamine chloride · 1-(3-chloroally)-3,5,7 triaza-1-azoniaadamantane chloride · Methanamine-3-chloroallylochloride · Hexamethylenetetramine Dowicil®75, Dowicil®100, Dowicil®200
Cross Reactions: · Imidazolidinyl urea (Germall®) · Diazolidinyl urea (Germall II®) · DMDM hydantoin (Glydant®) · Bromonitropropane diol (Bronopol™) Tris (hydroxymethyl) nitromethane (Tris Nitro®)





Where is it found: Quaternium-15 is a formaldehyde-releasing preservative. It is used in many cosmetics and pharmaceutical preparations. It is also used as a preservative in many commercial and industrial products. The table below shows some of the products that may contain quaternium-15.

Adhesives and glues · Cosmetics and toiletries · Cutting fluids · Disinfectants and cleaning agents · Latex paints · Medications such as creams and lotions · Paper products · Polishes · Printing/etching materials



*****



Thiomersal (mercury and thiosalicylate mix)
Other Names: · Merthiolate · Sodium ethylmercurithiosalicylate · Mercurothiolate · Thiomersalate · Thiomersalan · Mercurochrome · Ethyl (2-mercaptobenzoato-S) mercury sodium salt [(o-carboxyphenyl)thio] Ethylmercury sodium salt





Where is it found: Thiomersal is an organic compound containing mercury and thiosalicylate. It is commonly used as a preservative in topical pharmaceutical preparations, cosmetics, and biological products such as vaccines. It is an antiseptic with both bactericidal and fungicidal action.

Make-up removers · Eye moisturizers · Eye shadows · Mascaras · Soap-free cleansers · Eye, ear and nose drops/ointments · Antiseptic sprays · Topical medications · First-aid product (tincture of Merthiolate) · Vaccines, particularly multi-dose vials · Antitoxins · Immune globulin preparations · Skin prick test antigens



*****



Topical Steroid (topical corticosteroids)
Other Names: · Budesonide · Betamethasone-12-valerate · Triamcinolone acetonide · Tixocortol-21-pivalate · Alclomethasone-17, 21-dipropionate · Clobetasol-17-propionate · Dexamethasone-21-phosphate disodium salt Hydrocortisone-17-butyrate






Where is it found: Corticosteroids, also referred to as steroids or cortisone, are a group of anti-inflammatory agents used in the treatment of many conditions and diseases. There are many different types of corticosteroids with varying potencies and actions. Topical corticosteroids are used in many inflammatory rashes. They are available in a variety of forms such as creams, ointments, lotions, eye preparations and eardrops. Topical steroids are also commonly found in combination preparations with antibacterials and antifungal agents. These prescription and non-prescription preparations are used to treat a variety of skin, eye and external ear disorders that have become inflamed and sometimes infected.



*****




reference:
http://dermnetnz.org/dermatitis/






Order online, by mail, by email, or by phone.
Pay online, by mail, or by phone.

See My ORDERING Page for Details.



BACK TO TOP