"Wear Earrings Again with Maggie's Creations are the only earrings I wear".
Celebrity Pamelyn Ferdin






"I'm so grateful to have found you and your wonderful earrings, people say they look terrific with my super-short hair. Fun! I so love being back in earrings again.".
Writer/editor Kathy Sena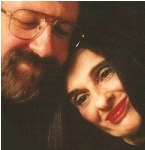 "The hoops are exquisite! Looks like a lot of delicate work! Thank you soooooooo much.............i've been wearing them all day and they feel great! Now I'm wearing your earscrews and they're really comfortable as well. Boy, when I see that envelope in the mailbox I do cartwheels in my head!!!!!!!!!
Love,
Lynne"
Internationally-acclaimed jazz/cabaret artist Lynne Jackson





"Love your earrings."

Even bought some for myself and my 32 year old daughter previously. Great products. I'm actually a surgeon and have utilized pounds of titanium plates and screws on fractures. Some how it's not only physically comforting for my ears but mentally comforting to use titanium."

Titanium Implant Surgeon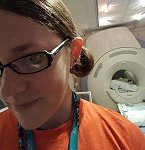 They are totally magnet-safe and my daughter is THRILLED with them! ... she told me, "My fancy new earrings don't pull at all! Not even a little bit! This lady's jewelry is MAGIC! I HAVE to see what else she makes!"

You done good, Maggie, and I swear, you should include something on your website about being able to make MRI-safe earrings for those who work around medical magnets! MRI techs all over the country would be VERY interested!

THANK YOU, Maggie!

... wearing her earrings right in the scanner room!
MRI Technician needing NON-magnetic earrings for work.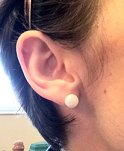 "Thank you for making a product that allows me to wear earrings again ! I love my pearls and feel like my old self again being able to wear them !!!! Thank you !"




Thank you!

Your earrings are the only ones I wear and I love them.

So THANK YOU!



Maggie!

If it wasn't for you and your creations; I wouldn't have been able to enjoy wearing earrings every day for the past 11 years!!

So THANK YOU!



Hi Maggie!

I was just digging through my jewelry box to get dressed for the day, and it occurred to me that I hadn't given you feedback about my earrings. It's been about 3 months since I ordered a pair of titanium studs, and I just cannot believe the difference in my ears.

I got my ears pierced when I was 9 (so 33 years ago!) My right ear had essentially *never* healed, and the left one was iffy. If I didn't wear earrings for a few days at a time, even 30 years later, it would almost have to "re-pierce" it to put an earring back in. It was always thick with a hard knot in the center, with a gunky crust forming on the backside (gross, I know!)

Wearing earrings even for a few hours would be uncomfortable. It's crazy to say, but I was completely used to this - it never occurred to me that it didn't have to be this way. I can't remember how I stumbled upon your website - I was Googling something. Anyway, I was skeptical, because I didn't see how this was any kind of allergy. I don't have allergies! And, in the past I had always thought I was doing the smart thing by wearing 14k gold. Because this never really solved the problem, I figured sensitivity to metals wasn't the issue.

Anyway, long way to say, I am just blown away by how different my ears are and the experience of wearing earrings now. I followed your instructions, and I sleep in them every night. Not only is there ZERO discomfort, but for the first time in 30+ years, that thick knot in the middle of my lobe is completely gone.

I am so grateful to have found your website and that you provide this service! I can't believe I could have lived another 30 years with painful ears. Now I don't have to.



Hi Maggie!

I've been pouring over your site for days, and reading reviews on various message boards of your healing earrings and protocol. I'm really excited to try. I actually have hope for the first time in many, many years that I might be able to wear earrings!

I think I developed my allergy to (nickel? Who knows) with my first pregnancy in 2006. I haven't been able to wear earrings for more than an hour or so since. I have no problem getting earrings through both my lobes and my single upper ear cartilage piercing, but in less than an hour my ears are inflamed and throbbing and then they ooze for days after with hard little knots in the middle.

I am excited to place an order ... Thank you so much for all you have done - you are the best resource on the internet for those of us who can't wear earrings!



Dear Maggie,

My name is Alexandrea and I am currently 25 years old. I first pierced my ears when I was 7 years old. I was extremely excited since my mom made me wait until I was a little older to get them done. I remember going to the piercing place, picking out the exact studs. I had earrings aunts had given me to wear when they finally healed. I wore hoops my mom gave me, and then the rash happened. It was truly so awful to be a child, who all of her friends were wearing earrings and I had this truly disgusting rash all down my neck all around my ears. I didn't understand why. I couldn't wear gold, silver, any other types of earrings. Necklaces were out of the picture since it also gave me rashes. No more jewelry for me. I had jewelry my mom wanted to pass down to me, but I soon was allergic to everything. We thought it was a fluke thing, and waited a few years, I went back at 12 and again the rash immediately happened. We knew the procedure, take them out immediately, go to the doctor, take the antibiotic to get rid of the dermatitis. I tried one more time around 15-16 (don't ask me why, as I knew what would happen), but a teenager now and ugh I just wanted earrings like everyone else. I have been dealing with no jewelry for most of my life. I didn't think there was going to be anyone else that had such a horrible allergic reaction to metals like me. OR Neosporin, a literal antibiotic cream.

It is honestly the worst in the world, to be given a gift of a beautiful piece of jewelry and having to just return/or explain that I cannot wear it. So I have literally tried everything, "hypo-allergenic", which on your website is completely true about them fibbing. I have had several reactions to Piercing Pagoda's merchandise and have even went back with my lovely contact dermatitis rash to show them this is what it does. I have tried surgical steel, yet I need to be careful depending on the fine print of the metals. I have had my belly button pierced ( I know as you read this you're probably thinking, why!? if I am allergic), but I just couldn't help it I had to have it. I've had the piercing for 10 years no problems using plastic ring, which is not cutest, yet it is the only "ring" I could wear. After reading your website it confirmed my never ending research on Niobium. I am going to try it out and I am excited to see if it works, because at 25 years old and not being able to wear beautiful dangling earrings when I get married crushes me.

To end my email, I'm just truly grateful to have stumbled upon your website this morning. I am so happy that I have found someone who understands the rash, the medications, the doctor telling you "no more jewelry", no one quite understands it. I just want to wear earrings! Why is that so difficult. Your website is something I have been waiting for, for a very long time. And I am sure there are so many people out there thinking the same thing. Thank you so much for this website, the information provided, telling your story, and providing SAFE jewelry to wear.

THANK YOU!



Hi Maggie

I just wanted to say thank you for the instructions to help my eleven year old daughter's ear piercings heal. She got them pierced 10 months ago, and since then, she has had problems. She seems to be allergic to most metals, and I got her titanium earrings (from another place, that didn't provide any instructions) and her ears improved, but I was caring for the ears improperly so they never fully healed.

I was about to give up and have her stop wearing earrings when I found your website, and figured I'd order a pair and try your instructions and see if they helped. It took two months of her wearing the starter earrings and following your instructions, and now her ears have finally healed. There is no more itching, discharge, or blood from her piercings, and I can change her earrings without pain. She is very happy with the two pairs of starter earrings she has and loves the dangles when she wants to dress up.

Without the instructions and help you provided during the healing period, I may have never figured out how to get her ears to heal, and finally she can enjoy her pierced ears.

God Bless



Hi Maggie

I love your earrings! I almost given up on piercings and then I found a your site. Now I'm getting some for my children.



Maggie

Your earrings made a huge impact on my daughter's life. We were to the point of having to remove her earrings and let the holes close because they were constantly irritated. With your earrings, her ears healed and they are perfect!

Thank you from the bottom of my heart.



Thank you!

After getting Megs ears pierced we tried everything to get them to heal for almost 18 months. We were almost ready to just take them out and give up but she was devastated by that idea. I finally found your website and ordered her the hoops below in May. Her ears have finally healed and I let her try some other earrings a few weeks ago. She has had no problems and couldn't be more thrilled!

Thank you so much for all your help!



Thank you so much!

I can't express enough how much of a blessing your products have been for us. My daughter was devastated when she had the allergic reaction to all metals after waiting so long to get her ears pierced.



Hi Maggie

Thank you so much for the exquisite earrings (2 drop pairs with changeable hoops). The earrings are so beautifully made and designed and a delight to wear. And the changeable hoops mean I can wear drop earrings again. So exciting! I feel so upbeat!

A big thank you



Hello Maggie

Just wanting to get back to you about these wonderful earrings that you made for me. I've been wearing them continually for two weeks , daytime as well sleeping. I am so very pleased, I can't say it enough. Finding your products has been a long search for me and they really have changed my life.

I've known that I'm allergic to nickel for all of 55 years and only about 5 years ago had I been given a gift of titanium earrings. Now to find you as a source broadens my desire and capabilities for wearing pretty jewelry.

Thank you for your wonderful product. I'm hoping to some day order more.
Yahoo!

Thank you so much



Maggie

Exquisitely beautiful pearl earrings!

Hello Maggie,

I received the beautiful, pear shaped pearl earrings on the longer hooks. I have been wearing them and wanted to let you know how beautiful the pearls are. Thank you for the beautiful, and high-quality, earrings you offer.

I'll be ordering from you again!



Maggie

Thank you so much for your website! Prior to me stumbling onto your site, I was clueless as to what to do about my daughters metal allergy. I was using all the wrong solutions in attempts to heal her ears and only making the problem worse! I was so desperate to find a solution so that I wouldn't have to make the unwanted decision of letting my 3 year old daughter's ear piercings close up.

After 3 months of wearing the anodized hoops and using the healing [protocol], her ears look and feel SOOO much better.

Thank you.



Maggie

I wanted to thank you for the beautiful Aquamarine earrings. I'm not sure about the large plastic discs on the backs. They show a bit at the bottom of my earlobe. Can I get additional backs? [Yes]

I am impressed with the quality of my earrings and I really love how sparkly and bright they are.

Thank you for providing a service that I haven't been able to find at a mall or jewelry store. I haven't been able to wear earrings for over 20 years until I found your website. I have sent the web address to several ladies I know that have the same trouble with wearing earrings.

Thank you again!



Dear Maggie

My daughter, Lizzy, is SO happy to be able to wear earrings again! After almost a year of redness, swelling, and oozing, her ears are healthy thanks to your beautiful earrings! She is having so much fun changing them out for the first time without pain! I have already told several friends about your amazing earrings!

Thank you SO much again!!!!



Testimonial for you:

Maggie is amazing. My daughter was severely reacting to her new piercings, even though we got the titanium surgical grade kind. I quickly researched and found this site. Maggie offered incredible support and help.

We ended up ordering the Nobium starter earrings, and literally within minutes of switching them out (using Maggie's protocol), my daughter's pain went away.

This is a great resource, Maggie is THE earring expert, and we plan to give her all our future business. I've also shared her site with many other moms already as this is a common struggle that few realize is due to the issues with increased sensitivities in our kids combined with what's in most earrings.

Thanks, Maggie!



Maggie

Thank you for the great service on my first order of earrings.

It didn't occur to me until I got home from work today that my ears weren't itching at all. I had stopped wearing earrings to work [before] and was only putting them in for special occasions.

Thank you so much! I will check out other styles.



Hi Maggie

I got my earrings today -- it was like Christmas! I couldn't wait to open them. I followed the care instructions to a T, put them in, and here I am an hour later wondering when I should order them in another color! They feel great already.

The earrings I had been wearing were platinum screw-on posts, which felt like serrated saws in my piercing holes. The titanium feels so smooth, it's like nothing at all.

Thanks for a great product.



Thank you Maggie!!!!

The earrings are beautiful!!!! My daughter is so happy!!!!
It is YOU who made this happen for us, your help and guidance, we are so grateful!!!!



Maggie!

Dear Maggie,

I haven't written to you before now because I was afraid I might put a jinx on my ears if I told you how well they were doing! But today, it has been more than two months since I began wearing the sleeper titanium earrings. And they are doing GREAT!
I took them out for the first time and put them back in! No swelling, pus, irritation, puffiness...nothing! They did awesome the entire time I had the earrings in!

I had my ears pierced when I was 19 years old and due to my impatience with waiting for my ears to heal, I went ahead and bought a pair of silver earrings because I wanted something different. Boy, did I pay for that immature act.
From that point on I had my ears pierced 8 more times at different ages of my life and at different places with different earrings (doctor's office, jewelry store, earrings that guaranteed anybody with problems could wear these earrings, etc.) And every time my ears swelled up and became infected within 6-8 hours after they were pierced.

When I found your website, I was a little bit skeptical. But the one major reason I went for your earrings was because I have Harrington rods in my back made of titanium. I've had these rods in my back since 1990...if titanium works in my back, surely, it will work in my ears! And it has!!!

I am thrilled to have found you, Maggie, and thankful that you have made earrings for those of us who have not been able to wear them. Thank you so much!

My husband bought me a pair of pearl earrings before the sleeper earrings, so now I have a pair of nice earrings to wear when we go out to dinner! And I plan to shop your website and ask for a new pair of earrings for every occasion!

...thanks so much! I am enjoying my earrings with my short hair! And looking forward to purchasing more of your earrings!

With lots of grateful love,



Maggie!

I have wanted to wear earrings ever since I could remember. I tried piercing my ears in my childhood and teens - twice. Both times, I took care to follow cleaning instructions and wear only hypoallergenic, gold or silver earrings. And both times, my piercings refused to heal. They would stay red and infected. I had to let the holes close up.

Thirty-ish years later, a gift of a beautiful pair of dangle earrings from a non-observant friend got me searching for options again. I discovered Maggie - and her website gave me the courage to try piercing my ears again. I followed her instructions to the letter and had no infection. No redness. But the healing process took longer than I thought it would.

When I tried to put in a new pair of earrings after two months of healing, I swear the holes closed up. It took fifteen minutes and some tears to get those earrings in. One ear even bled a little. But, Maggie was there to help when I sent her a frantic email. I followed her instructions and continued to communicate with her as healing progressed. Every so often, I would try to put in a different pair of earrings, and each time the holes became more pronounced. And each time, it got easier.

It's been five months now since I've had my ears pierced, and I couldn't be happier. I'm wearing pretty niobium and titanium earrings, and I'm loving it.

Thank you so much, Maggie, for making one of my childhood dreams come true. I finally have pierced ears!



Maggie!

It's so great to see all the new things popping up on the website. Thank you so much for the gift you included with my last order. You always seem to know just what I'll love.

I'm still having such a good experience with every pair of earrings I've gotten from you. NO irritation at all! I can't tell you how greatful I am. Thanks again.



Thank you Maggie

I so appreciate your artistic work and honesty. I have only been able to wear earrings again because of you. I have not had that success with others who claimed their earrings were titanium. I suspect they may have been titanium but not of good quality.

I look forward to the shipment and continued purchases in the future. I truly appreciate you.



This is our second order from you.

My daughter is 10 and has had pierced ears since she was 2. She hasn't been able to wear earrings for more than 12 hours or so since she was about 3. Her piercings never healed shut, we are good about putting an earring through them every now and then.

We've tried ALL other earrings and cleaning regimes without success. I am a healthcare provider myself and I've searched high and low for something she could wear (and spared no expense).

FINALLY, my daughter can wear earrings!!!! She has not had the slightest bit of irritation and has been wearing them from the second she got them ~ a month ago. She has been pressing me to get some more earrings but I thought....let's wait and see. The days and now weeks have gone by and they are perfect.

Thanks you SO much!!! I am shouting your praises from the mountaintops of Nebraska (not really, just the plains but you get the idea).



You have made my daughter the happiest kid on earth!

She first got her ears pierced about three years ago, when she was 8. No matter what we did, it seemed like we could never get them to heal. After about six months, the infection got so bad we had to take the earrings out and let the holes close up.

About four months ago, she got up the nerve to give it another try and get them pierced again. This time we had it done it the doctor's office, thinking that would be better. Needless to say, it wasn't. The backs on the starter earrings were too tight and were designed not to come off easily, so we didn't get off to a good start. Then when we were able to change the earrings, things just went from bad to worse.

We now knew not to wear "junky" earrings. So we had gold, and sterling silver, etc. But still, it was just constant infections, oozing, crust, etc. Changing earrings was a horrible, painful experience. Even the doctor didn't have any suggestions beyond topical antibiotics and making loops out of nylon fishing line for earrings. (Really?? Clearly he has never had a fashion-conscious 11 year old...)

So I went online and started researching hypoallergenic earrings for kids and came across your website. I had never even heard of titanium earrings. I figured it was worth a try and I ordered the double circle post starter earrings for her.

It's been two weeks now and we are THRILLED! Even after just one day with the titanium earrings we could see the improvement. For the first time in months she says they don't itch and they don't hurt. She's so excited that she can WEAR EARRINGS AGAIN!!

Thank you so much!



Hi Maggie,
I wanted to express my profound thanks for being one of the few, if not the only, supplier of truly [non]allergenic hoop earrings. I developed a severe allergy in my right ear over the past few years which led to my earlobe splitting! This led to an expensive earlobe repair surgery for me last year. I have been a dedicated earring wearer since I was 11. There is nothing I can now wear in my ears that won't irritate them other than 100% pure inactive metals.

I couldn't believe the total LACK of options available to me online when searching for a simple, [pure]-grade hoop earring. It's astounding that you are the only one who would think of making such a basic earring. I literally would have no other options for hoops if it weren't for you ... Such a versatile style that you can wear with anything! Thank you for being so attuned to woman's accessory needs. The attention to style and detail you put into your products shines through ... I'm looking forward to ordering pair Number 4!

Thanks again Maggie :)



Awwww you are amazing!
God is using you as a vessel of hope, healing, and truth. God bless you for your gifts and your business! You are doing amazing things for His people and He delights in that!
Much love,

(Maggie's note: I just had to share this ... some people have a gift for spreading love!)



Dear Maggie,

I just can't thank you enough for all the beautiful earrings you've made me this year and the joy they've brought into my life.

I love the new style rounded bone earrings. I think the quality is beautiful. And seeing them next to the others (which are nice enough) really lets me see how beautifully they are made (I love the color, the polish, the smooth shape, the size - everything about them really). I don't know what your original twisted bone earrings were like, but I can't imagine being happier than I am with the new rounded style. They just look great on! I've worn them several times since receiving them - as I have the Austrian crystal bells - and the two seraphanite pairs I ordered - I can see now why you're such a fan of the seraphanite!

Well, I won't ramble on any longer, but I wanted to say thank you so much and wish you the happiest year ahead! I've just been browsing the "new" page, so I'm looking forward to ordering again soon and many lovely new earrings in 2015.

Happy New Year, Maggie dear!



Hi Maggie -

I am so excited about my beautiful peacock pearl studs earrings! And what a fantastic surprise for my Christmas! They are so comfortable and yet so stunning! I now have a NEW favorite earring!

My ears have calmed down so much since wearing your starter earrings, I was even able to wear a 14k gold pair for an event without any problems. Of course, they came off when I got home and yours went right in after them. There's NO way I will chance not wearing niobium earrings for everyday wear after what I've been through!

Thank you, thank you, thank you, for giving me my pierced ears back!!!
Love and Happy Holidays to you,



My daughter got her ears pierced about two months ago, just two months before her third birthday after she had begged for nearly a year! My daughter began getting this crust on the sides of her nose about two weeks ago that I couldn't figure out where it came from, she's prone to allergies so her piercing earrings were 24 kt gold.

About 8 days ago I realized one of her ears started oozing yellow and green when I cleaned it! I googled, found your site, ordered your earrings and got them about 3 days later, cleaned them, cleaned her ears, and put them in right away! Two days before receiving your earrings her eyes began to swell and "crust" (kinda like eczema).

It is now 5 days after getting your earrings and her eyes are fully healed, no more oozing, and there's barely any eczema like crust on the sides of her nose! If your earrings had arrived any later I'd have taken her earrings out no matter how much she begged me not to!

Yes she's only (nearly) 3, but she's my little diva and loves her earrings!!! Thank you so much for providing this service! I hope to order more in the future! I had 4 sets of earrings in my teens, left earrings in them for years and they never healed, maybe I'll get a couple pairs for myself and repierce my own ears!

Ashley, a VERY thankful mother of a VERY thankful little girl!



Dear Maggie,

Smooch, smooch, smooch!!!!

I have not been able to wear any earrings (tried all kinds - 24K gold, nickle free, etc.) for over 10 years! I would put them in my ears and within minutes my ears were enflamed, burning, hot and itchy. ...I was anticipating the same with your Niobium ones, and to be honest, I was very skeptical, but I decided to commit to giving them a try.

I put them in, and followed your instructions to a "T". I didn't have ANY problems with them. SHOCK! I went to write you right away but I was afraid I would jinx it. LOL! So I waited. I am now on day 19 and have had zero problems!

Thank you! Thank you! Thank you for your caring research, your knowledge, your creativity and for giving those of us who couldn't wear earrings anymore another opportunity! I can't wait to go pick out some new earrings of yours to try.

Truly grateful!



Hi Maggie -

We are SO happy with Jordie's earrings! Her infection, which was still evident in her ears when she put your earrings in, has completely disappeared. She loves her earrings and is currently searching your website for the ones she wants to ask for for Christmas.

Thanks so much for creating your jewellery line and for sharing it with others.
I wish you all the very best Maggie!
Gratefully,



Thank you,

Got the earrings today. Love them! I have yet to try the Onyx ones but I will in a day or two. So far loving the flat pad ones!
I attached a picture so you could see what it looks like on me.
Love your work! Thanks again!



Maggie,

It worked! I am so excited! My right ear healed after about 24hrs my left ear took about 3 days like you said. By day 4 I didn't even know they are there. It's been a full week and both piercings are completely healed! Yay



Hi Maggie,

I have no doubt of your ability to make the earrings nice and pretty for me. :) I also can't thank you enough for making wearing earrings possible again for me. Without your help, this would have just been an empty dream. Other than that, you are also so pleasant to work with. You are super patient and very much in details that I really appreciate very much.



Hi Maggie,

I wanted to let you know that I received the healing earrings last week, and I've changed to those. My ears started to feel better less than an hour after taking out the original ones! And within about 36 hours, the swelling was down, the itching was gone, and my ears started to feel reasonable. Today, I can't even tell the earrings are there. My ears feel normal!!!

Also - the little hearts are SO cute! Thank you so much for rushing those. I can't tell you how much I appreciate this.



Hi Maggie,

Since my alloy reaction wasn't the same as yours (I had redness, swelling and tender ear lobes but no rash), I wasn't sure if your earrings would work for me but decided to take the leap and try them. I'm so glad I did.

After 24 hours I could already see an improvement but was afraid it was wishful thinking so talked myself into containing any excitement. After 4 days of wearing your healing earrings and following your cleaning directions, I have no swelling or redness or tenderness. I'm so extremely happy that I can now wear earrings without pain that I just had to tell you how grateful I am for all your research and finding a solution that truly works for those of us with an allergy to alloys.

Now, I'm going to place an order for more earrings and can't imagine ever buying earrings anywhere else. Thanks so much!!!!



Dear Ms. Maggie,

Your wonderful earrings saved my one year old's ears. We tried some "hypoallergenic" earings several months after getting her ears pierced. This created a downward spiral of earring problems that eventually left her with ears so raw, that we could see into the layers of her flesh. Her ears would no longer accept gold or silver earrings. They bled and itched so badly that her doctor had to put her on antibiotics to stop the discharge. We were ready to throw in the towel when her doctor suggested we try titanium. The problem was that we could not find any in the stores. My husband lucked upon your website, we followed your directions, and purchased several paors of earrings for our daughter. I will admit that beacuse her ears looked so bad, I was a skeptic. However, we began to see immediate improvment, and now a little over a year later, it as though the problem never existed.

Thank you so much for your products, I know we would have given up without you!



Maggie -

I had my ears pierced at the mall when I was 14. Since then it's been nothing but itchy, goopy ears. I finally gave up on earrings about 10 years ago. However, my piercings never healed and I continued to have problems. I'm being treated for cancer and I decided to try to wear earrings again so I wouldn't look so funny without hair. When I was surfing the net, I happened to come across your website. I figured it was a scam, but the prices were good so I ordered a pair. I followed your directions exactly and after about 3 days of itchiness, my ears healed. I've had earrings in for a month now and I'm looking forward to ordering a few more pairs.

Thanks!



Dear Maggie -

I just want to say that I'm thrilled with my purchase through your store. I ordered earrings as a gift for my sister who has dozens of earrings she can wear for only short periods of time but was really looking for a good pair of every day earrings she could wear all the time. I got the niobium dots and donut set and she absolutely loves them. I loved the color availability, and she adores the color changing alexandrite. I've even referred her to your website to check out the separate donut sets she could get, along with all the other beautiful products you offer. I think you may have won over a long term customer!

Generally I'm a bit wary of ordering from small online stores that don't have specific reviews due to some bad experiences, so typically I go through large vendors with lots of feedback like Amazon or Ebay. After extensive research on the absolute most irritation free metals however, I decided I liked the niobium, which I'm sure you're aware is tough to find in jewelry. In searching for niobium, I found your store and the wonderful variety you offer, so I decided to take a chance. I'm so glad that I did!

That said, I would like to know if there are any major consumer review sites you are listed under, so I can offer my feedback through a recognized third party to reassure anyone who may have doubts like I did. I know I'm in the median range of nervous shoppers, so I want to tell anyone that might be more hesitant than I was what a great experience shopping with you has been!

Thank you again for a wonderful product and a great online shopping experience!



Hi Maggie -

Just to let you know that everything has been going splendidly with my healing earrings, and I am getting ready to wear my cz studs in a week or so to a wedding. this has been so much fun! I also ordered a pair of niobium earrings and have tried that metal-in addition to the pure titanium ones I bought from you. Both metals seem fine! yay!

Thanks so much for providing the advice and knowledge and products I needed to give this a try. I am singing your praises to everyone I know! Best,



Hi Maggie -

I just wanted to drop you a line to tell you how grateful I am that you make and sell your wonderful earrings. My 11-year-old daughter got her ears pierced in December, and they just would not heal, no matter what we tried. A co-worker suggested titanium. I found your site after searching for "medical titanium earrings". I bought her a pair of healing earrings after reading your story about your own ears.

Within one day of wearing your earrings, her ears looked better than they ever had, and within three days, there was absolutely no redness or oozing anymore. I asked her last night how her ears are doing, and she felt the worst ear and looked at me stunned and said, "It doesn't hurt at ALL!"

We both had pretty much lost hope that she was going to be able to keep her pierced ears, and now we know that she can. Thank you so much!



Maggie -

I feel like running around yelling, I'm healed!"
Thanks so much, Maggie --



Hi Maggie -

I only just got the starter earrings from you yesterday, but I'm already just so thrilled! I knew within 30 minutes these would work for me... any other earrings would have had my ears itching like crazy by then! Even high quality gold didn't work for me, despite what everyone says about it being hypoallergenic. I eventually got some good clip-on findings and replaced the hooks on all of my earrings, but I still had to coat those in clear polish and couldn't wear them for very long.

I'm going to follow your instructions for letting my ears heal completely, but I can't wait to order and wear more of your earrings! And maybe some hooks for the earrings I've tried to wear over the years and just couldn't throw out.

Thank you for making such pretty non-allergenic jewelry and such an informative website! I've always wondered if titanium would work, and reading your site finally convinced me it was worth a try.



Hi Maggie -

My daughter Alyssa is 8 years old and she had her ears pierced 3 months before her 7th birthday. We went to the mall, got the starter earrings and the antiseptic ear wash that you're supposed to use etc... Needless to say, after 8 weeks, the first time we removed the starters there was much bleeding and pain.

We managed to get a pair of 14K gold earrings in that the earring shop told us should be fine. Well, they weren't. We left them in for another 8 weeks. They were still a painful mess. We removed those ones with a great deal of blood and pain, and put in my platinum diamond posts, thinking that she couldn't possibly be allergic to the platinum.

She wore them for about a year. Faithfully cleaning her ears every night with the antiseptic ear cleaner like we were "supposed" to, they just didn't ever heal all the way. They were red and sore to the touch, and there was no way I was going to attempt to take them out or put anything else in there until I knew they were healed. I begged her to let me take them out and just give up on earrings, to which of course she absolutely refused to give up.

Last month, she asked me to take the platinum posts out so she could try another pair. She was confident that it wouldn't hurt, until she tried to take the back off the posts. She gave up quickly and we both sat there pretty much hopeless.

I decided to Google hypoallergenic earrings for kids, and there was your website. We both learned all about everything that I was doing wrong, and what we needed to do. I measured Alyssa's earlobe and it turned out that her earlobe is 10mm thick - too thick for any regular post of any kind of metal. I guess that the piercing place didn't notice when they pierced her ears, and I didn't realize after the fact because her poor earlobe had been squished at the piercing site for so long. What a mess of things!!!

So... we found your site and ordered the endless hoops. It was a painful process getting the old ones out and putting these in, but after some blood and tears, we got them in. Salt water only to clean and a couple days of itchy earlobes, and lo and behold... Alyssa was tugging on her earrings just to show me how for the first time, they didn't hurt her anymore. I about cried!!!

It's been almost a month now. They aren't red at the piercing site from being smashed by the stud and the earring back, the little cyst that was on her left earlobe is gone, the earrings slide through the piercing with ease and she is feeling pretty good about trying to change them out. I'm so happy, I don't want her to ever take them out again. =)

We will be buying all of her future earrings from you, and I cannot thank you enough for ending the misery, and educating me on this issue. You are heaven sent. Thank you,



Maggie -

Just wanted to take a minute to tell you thank you for the incredible products! My daughter has had her ears pierced since she was 5 and has never been able to wear earrings for even a short period of time without her ears becoming swollen, itchy, oozey and even bleeding. We have tried every kind of earring we could find and nothing has worked. She is 14 now and I just stumbled across your website about a month ago after another unsuccessful attempt to find something she could tolerate. I read through the information on your website and some of the testimonials and it seemed to describe the exact same problems she has always had.

Although I was still very skeptical, I ordered a pair of the endless hoops for her. She has had them in for almost two weeks now and has had NO pain or irritation at all! Every day I ask her if they are okay thinking there is no way we have found something she can wear, and every day she smiles and tells me they are fine and she can't even feel them in her ears. I am so happy to have found earrings she can wear and relieved to know she won't have to tolerate pain to wear earrings anymore. You have two very happy customers and we will be visiting your website often to order new styles. Thank you so much!



Dear Maggie,

I feel so alive!!!! Thank you! Thank you! I received my revamped earrings in the mail today and could not wait to put them on! It's been at least 18 years since I've been able to wear my favorite earrings and I can't tell you the sentimentality and wonder that wearing these earrings again invoke.

Thank you for making it possible Maggie! You're a miracle worker.



Dear Maggie,

I am so very thankful to you for inventing a way for me to wear earrings again! You have really created a miracle! The lymph nodes behind my ears would swell up, along with my earlobes- so much so that I couldn't hear and had to take antibiotics right away to cure it. My earlobes are still scarred up! Thank you! Thank you!



Dear Maggie,

I want to thank you so much for the extra care you gave my order! I love my earrings and I can't wait to order more. Your service was outstanding. I'll be a customer for life. =)



Dear Maggie,

I wrote to you about a month ago and ordered some earrings from your site- and after nine attempts and 40 years of waiting-SUCCESS! My ears healed immediately and the big hard lumps disappeared, just as you promised. I'm so over the moon I can't express my gratitude, and all your advice (olive oil etc) has been spot on.

I expect you will recieve plenty more orders, as my birthday and christmas are coming and earrings are all I want (I've already made a list!). Thankyou once again for all your help. With gratitude.



Dear Maggie,

First let me say that I just love your product. I have suffered from terrible scarring and all types of ear issues since I was a child and when my daughter had her ears pierced last year, I at 30 years old, decided to try my luck again, it is because of your earrings I have been able to wear earrings without any scarring or infection. To be able to have my ears pierced along with my daughter has been a gift.



WOW

...even better than I imagined! I am wearing my earrings in perfect comfort. And they are so pretty! And so light-weight! I think you understand how cool this is. I have super short hair and I was so bummed I could not wear earrings. For whatever reason, I just really like dangly earrings with short hair. I seriously thought I could never wear them again. I knew for years I had a nickel allergy and was fine for years with a certain company...then began to flare up with allergy symptoms in one ear lobe.

Thank you, Maggie, for your fabulous earrings. I'll be buying more for sure. : )

Hugs [from] a happy customer



Maggie

I just adore you for having all the information about metal allergies! I have had my ears pierced now for three years or so and I have only worn your earrings. I am happy to say I have never EVER had any problems!!!



Hi Maggie

I am having the time of my life just getting myself awake in the morning and putting my earrings in as if I was doing it from 'childhood'. Believe it or not, with your product I get a boost every morning remembering what it used to be and comparing that feeling to success. It is insightful. Keep up this good work. I have a hunch many more people will develop metal allergies as they age. I wish you and Rob every success taking care of us.

With kind appreciation,



Maggie

I just wanted to write to let you know how happy I am with the earrings I purchased. Like many of the women who write you, I had not been able to wear earrings for a long time. I originally had my ears pierced about 20 years ago and always had problems with itching, swelling, and redness. It didn't matter what kind of earring I used and I tried them all. I eventually just stopped wearing earrings about 10 years ago. Before I came across your website I had never heard of titanium or niobium earrings before. I purchased the endless hoops to try out and after a week of wearing them with absolutely no problems I was thrilled and decided to order two more pairs. I have now worn both of those pairs and I love them.

Thank you so much,



Dear Maggie

I'm ecstatic! My earrings came last week .. and I started out with the healing earrings and within a few days, the itching, swelling, redness, seeping and pain disappeared so I put the lovely heart earrings in and my ears are perfectly fine!!!! I absolutely adore the earrings as well, I love the antique look and they're pretty and dangly and beautiful! It's amazing just how big a confidence boost earrings can give you!

I've been trying to explain this to my husband - he doesn't wear earrings & doesn't have any (known) allergies - so I said to him 'Imagine you could not wear jeans and you would try lots and lots of different jeans hoping they would be ok and some of them would even promise they would be suitable but you wouldn't be able to wear any of them. And then you'd discover someone who makes jeans just for you and you'd be able to wear jeans again!

So, I'm off to buy some more. Thank you!!!!



Maggie!
I bought a pair of your healing earrings after I got my ears repierced in late March. I had had such a bad experience with my first try (never healed and struggled with the mess for over ten years!) but dared to do it again for my daughter's wedding. The ear piercer (professional body piercer) assured me that his earrings would work. Of course, they didn't. I searched online and, thankfully, found you!!! I have worn your earrings 24/7 since then (except for the wedding) and am thrilled to announce that my ears are now totally healed!!!!!!!!!!! I can now sleep without the earrings and even have worn my 14 carat gold ones for a few hours with no trouble!!! Maggie, I can't thank you enough. You are truly a blessing.



Dear Maggie:
I got my latest order in the mail today. Woo-hoo! All 6 of the piercings in my ears now have earrings for the first time in 14 years. I can't tell you how thankful I am for your jewelry. I need to rebuild my earring collection so I will be back for more in the future. Thank you so much!!!



Dear Maggie:
I just wanted to let you know how much I absolutely LOVE my niobium hoop earrings!! I just re-pierced my ears and put them right in a week ago, and I have not had any reaction to them whatsoever! This will be my 3rd or 4th time attempting to wear earrings in my life (I'm 45) and first had my ears pierced when I was like 9 years old.

With my previous piercings, I always had them done with a gun, but this time I ordered 2 professional, sterilized piercing kits with the hollow point needles and did it myself. It was quick and easy and my ears are healing up nicely. Normally, I would have a rash, swelling, itching, and weeping. I can't get over how amazing this is! I thought I would never ever be able to wear earrings. I followed your instructions on cleaning my ears. I use the sea salt soaks, and after I apply pure coconut oil and they look and feel great!

After about 6-8 weeks, I want to order some of your niobium ear screws to sleep in. Although I do think the endless hoops are better for getting the ears to heal because the air can circulate around them much better and are far easier to clean, they are a little awkward to sleep in, but not terribly so. I also want to get some of your 3" hoops with the niobium wires.

I am so happy I found your site and would highly recommend you to anyone I know who has trouble with allergic reactions to earrings. Thanks again, Maggie for your lovely creations!



Dear Maggie:
In regards to your earrings you titled "Niobium & Titanium Wire Sculpted Left & Right Heart Dangles"--They are by far the most beautiful earrings I have ever seen. Though I am not a customer, nor *in such an economy we are in* can I completely guarantee I can be a customer; I do indeed wish you to know how amazing I think that artwork is.

I just got my ears peirced for the first time since I was 2 years old; *I am eighteen, nearly ninteen now*, and it was done at the mall with the surgical grade titanium earrings. I have never had allergic reactions before; only a problem losing my earrings as a child. So far, I enjoy having the titanium earrings, and was looking into buying more for when my ears heal completely.

When I came across those earrings, I simply said that they are worth saving up for. If ever you do make more artwork resembling those, or having the same concept of those, I would surely like to know (:



Dear Maggie:
We recieved our earrings yesterday and I put them in for my daughter right away, by the end of the day her ear looked hardly red at all and this morning you would not have known she ever had a problem as her ear looks completely normal!

Again I would like to say thank you so much for all your help and advice and also for getting the earrings out to us so quickly, you have been wonderful and my little girl is just so pleased she gets to keep her earrings!

Best Wishes,



Hi there:
I purchased earrings from you in the past (? a year ago or more). I purchased the titanium (pretty sure it was titanium and not niobium) knots starter earrings for my daughter who had recently gotten her ears pierced and was having problems with irritation, etc., couldn't wear any earrings at all - and we thought we might have to just let the ears close up.

Well the titanium earrings did the trick! They do not bother her at all - and they are THE only thing she can wear. She only wears the one pair that I have gotten from you - and nothing else. I am extremely happy with your "healer" earrings. They are the only thing my daughter can wear.



Dear Maggie:
Just an update to say thank you!!! I know it has been awhile since I contacted you...my ears have been healing all summer. It was a very rocky start with infected/swollen ear lobes (for a few mornings at the beginning I even lost the tiny dot earrings inside my ear...the dots would just go into the pierce hole...I look back and it was so awful!)

I have been wearing the niobium endless hoops all summer (never take them out) and have healed. I love them because I can swim and do everything with them in and not worry. One day this summer for a family photo I put on earrings with gold posts, and they made me crazy! I had to take them out after an hour. Thank you so much for your products and guidance!

I'm so happy to be able to wear earrings again!!!



Maggie:
I got my ears pierced AGAIN ( 4th time) six days ago after ordering a starter pair of ear rings and a pair for after healing from you. I have not been able to wear jewerly for 35 years. Every once in awhile I would try again and even the 3rd time I was pierced and the woman swore that no one was allergic to her hypoallergenic ear rings, it did NOT work AGAIN. Very bummed.

I found your website and felt hopeful. It took alot to find someone to pierce my ears and NOT use a gun. It seems mainly tattoo parlors use only a needle. I went to the place but the artist refused to put your ear rings in because he did not know what materials are in your ear rings, so I had to buy his surgical steel ear rings thinking I would just take them out the next day and put in your Ear rings.

I know you recommend NOT using their ear rings and boy are you right. I just wanted it done, I had your ear rings, I drove way across town and I WAS READY!!!!! By the next day, my ear lobes were swollen and really bothering me, so I switched the Ear rings to yours and by the next morning my swelling was down.

Your ear rings have been in my ears for 5 days, and they are almost healed. I barely notice them and I know it is going to FINALLY work. I never had the usual horrible effects after piercing. I am so confident, I ordered some dangling ear rings.

Anyway, I am thrilled and cannot wait to wear my ear rings with ease. Big sighhhhhhhhhhhhhhhhhhh.

Thank you again, so glad I found you!!!!

PS, I wanted to share with you that I used a Super Silver ointment for healing and to lubricate your ear rings when I put them in. I think it did wonders for my healing.



Hi Maggie:
I got my Niobium ear rings about 3 weeks ago & they're everything you said they'd be: I can wear ear rings again ! After 3 days the slight swelling started subsiding. Ears were inflamed before I put your creations in because about 10 days before I personally "re-pierced" them with a pair of old sterling studs I had--ouch ! Then I tried to wear my old studs, waiting for the niobium ones to arrive, but my ear lobes went crazy with allergy & were still screaming at me when I inserted the niobium small hoops. Even so, they healed quickly! (of course your tips help a lot)
Thanks!



This happy customer wrote an entire blog about me and my products.
You can read her testimonial HERE.



Dear Maggie,
Thanks for the lovely note. Yes, I am having such fun wearing earrings again! And I never would have tried if I hadn't come upon your website. Lots of people claim their products are "hypoallergenic," but I never trusted that they were and had no success with "hypoallergenic" products when I first got the problem.

Then I found you. Your description of what happened to your ears was EXACTLY like what happened to mine, and it was clear that you had done significant research into ways to fix it. And you were so supportive when I emailed you!

It IS a relatively small thing to be able to wear earrings again, but (I will now get all philosophical on you) isn't a lot of life made up of small things? It doesn't mean they aren't terrific!

So thank you again for adding a lot of fun to MY world.



Dear Maggie,
My sister had the same problem with her ears that I did. One day when my mom and I were cleaning her ears we noticed that her ears were kind of scabby and we didn't think it was anything so we just left it. About one week later the same thing happened and I said to my mom," I don't think this is normal because it`s the same thing that happened to my ears."

So we decided to give her my niobium earrings and that we would get her some niobium earrings. And that`s what we did. She got the package yesterday. She is so happy (mostly because she has ALWAYS wanted to wear dangly earrings) and my mom and I are happy because her ears will heal. :)

Your Friends (ages 8 & 6)



Dear Maggie,
Since I started wearing the earrings I bought, my ears have finally cleared up. This is the 1st time in 40 years!
My ears were so bad that I could not wear earrings hardly at all, and when I did, I literally had to 're-pierce' them everytime because they closed. So I went and officially had them re-pierced again! I was determined it would work this time and that I was not going to take them out-no matter what.

8 weeks later, I was worse than ever with swelling, redness, drainage, crystallizing, rash on 1 ear and of course-how could we forget the itching. I did not want to quit so I searched on the Internet because no one in my town could help-I called everyone. I even had the infection control Dr. at my work check them. He said they were definitely not infected. I assumed allergy.

Then I found your website. I got the order and stuck them in & low and behold, in 24 hrs there was a great improvement. All though the symptoms were not gone. In 48 hrs, they were even better. In about 1 week the rash was almost gone. Now they are perfectly fine and I can't even tell they are in. I have never had this with pierced ears.

That's why I also ordered a pair for my daughter, she has the same problem.I wanted to let you know how great this turned out. And yes, thanks for you and your product!



Hi there!
I am a 27 year old woman with all the allergies you can think of. Titanium earrings are literally the only ones I can wear. I read through all the information you have on your site and honestly I found things that my allergy specialists never told me, even while I was getting allergy tests done! I am very interested in the changeable earrings that you have.

I don't think I have ever seen such exquisite work except in fancy jewelry stores and we all know what those are made of.... I'm going to make a wish list of the earrings you have on your site and slip it in my husbands day timer... THANKS!!!



Hi Maggie,
Just a note on how things are going: my daughter has had no trouble with the pure titanium earrings. We used the sea salt water on them for the first two days and after that she said she hardly knew they were in her ears.

She's thrilled. I took mine out for the first time yesterday and replaced them with the titanium alloy earrings I bought last fall. I had no trouble wearing those earrings for the day, but I did not want to push my luck by sleeping in them, so I took them out.

It's nice to know that I can tolerate the alloys, for a short time at least. And I think my daughter will be able to, as well. Thanks again for all your help. I really do appreciate it!



Hi Maggie,
I join the list of happy customers with your earrings! I finally got my ears pierced when I turned 50, and for 10 years I really enjoyed wearing them, and built up a nice collection. Then suddenly, I had the exact symptoms that you have described, and did all of the wrong things to help matters, thinking it was an infection. I was very discouraged, but couldn't quite bring myself to let my ears close up. Then I was referred to your web-site, and got very excited! The titanium healing earrings are wonderful, and I have had no problems with them in—it is like it used to be with my other earrings! It has only been 4 days, and nights, but it is amazing. No pain, redness, oozing, --just normal ears with earrings in them—fabulous!

Now I am ready to buy some more earrings. I am wondering if I should stick to titanium, or would you think I would do well with niobium as well? Thank you again for your wonderful product! I also appreciate how fast you sent out my earrings.



Dear Maggie,
Your earrings are beatiful and I can't say thanks enough, my daughter LOVES them! She can now wear her earrings comfortably with no redness or constriction and she is sooo happy, she says your earrings are so comfortable she can't even feel them and she can sleep in them with no problems.

She is preferring the niobium healing post earrings for now and they look really pretty:-) It was very thoughtful of you to include the healing cream and sea salts, especially since her left ear is still not totally healed and the skin there looks quite dry and cracked. Thanks again, will definitely be ordering more earrings from you!



Hi Maggie,
I have the grade 2 titanium 6mm ball studs in my ears right now. I've had these in for almost a week now. There was some very minor itching at the beginning that was helped tremendously by the sea salt, but that itching has completely subsided and my ears feel just fine. I plan to leave these in for a few more weeks before I switch to another pair.

I have a friend who is a physician's assistant in a dermatologist's office. My friend knows the problems I've had with earrings, so I showed her my ears the other day and she was very impressed. When you fill one of my orders (because I am sure I will be ordering a lot from you!), if you'd like to include some business cards or pamphlets, I'd be happy to pass one along to her. That way she could let her patients know about your website.

Thanks, Maggie. I'm just thrilled with the way I look now that I have earrings in again. :-)



Hi Maggie,
I hate to admit that I honestly didn't think that this would work. I have not been able to wear earrings since my daughter was born 14 years ago and attributed my problems to hormone changes. I had two more children after her and hoped that each of the children would change my hormones back to what they were (along with my figure! lololol).

Looking at the ENORMOUS collection of earrings that my daughter has, I became so jealous. I looked for cute and hip clip ons and they just didn't do it for me. I came across your website after doing a search for sensitive ear earrings. After reading your site, everything made so much sense. I had so many of the symptoms that you mentioned.

I ordered your earrings and was excited about trying them so I re-pierced my ears myself!!! And guess what! You were so right. My ears itched for just a couple of weeks or so. I used the sea salt and the A&D ointment. I finally got to the point where I did not even notice that my hoops were in. My hair dresser even caught my earrings up in her comb because I forgot to take them out and it didn't even hurt. lol

The true test came when I tried to put in a pair of regular earrings (not the earrings for sensitive ears). As soon as I put them in, I got an itching sensation. I don't know if it was actually itching or more psychological. hahaha Well, I ended up wearing those earrings alllllllll day. It was a success. However, once my day was over I put your earrings back in and slept in them and all was well. I still make sure I keep your earrings in all times that I'm not wearing regular earrings.

I am so happy. I'm totally doing the happy dance. The whole earring world is opened up to me now. Thank you so much for providing this information and these earrings. Awesome, Maggie. Just plain ol awesome!!!


[Maggie's Response] Thank you so much for taking the time to write me such a beautiful letter! I am so happy to know that I've helped you add just a little joy to your life.

I do worry about you wearing the "regular" earrings though, once summer time comes (with the warmer weather) you may develop eczema to them again. All it takes is a little moisture (or sweat). This is because once we are allergic to something, we usually are for life. Now that your piercings are healed, there is a layer of protective skin inside the holes. But it won't take long for an allergen to break through the skin and cause problems again.

If this happens to you, you know that I am here, and I can make you some beautiful (better) earrings than my healers, that you can enjoy wearing instead of the "regular" earrings if you need me. As always, I wish you happy & healthy pierced ears !!!



Hi Maggie,
The [custom] earrings sound great!! I saw the picture of them... very beautiful! go ahead wip 'em up! Serously, its been well over 25 years since I have been able to wear a pair of earrings and, even 25 years ago, It was difficult... finding you is a blast! I cant thank you enough:)



Dear Maggie,
My ears are doing much better. What happened is, I got my ears pierced and they were getting infected. After 6 weeks, I was able to take them out and I tried a bunch of earrings and none of them were helping my ears. They were making my ears very swollen and one ear was bigger than the other! And they were bleeding and I had to go to the doctor and the doctor said that I have to let the holes close. I felt very sad.

Then my Mommy found your website and you told her to order the niobium hearts and they are helping my ears very much and they are not swollen any more. I am much happier now and I am happy that we didn't listen to the doctor and let my holes close. I am so happy that you helped me keep my ears pierced. Thank you so much!
Your friend,
(8 years old)



Hi Maggie,
Thanks for your response. How cool that you can convert "regular" hoop earrings! I will heed your advice and start with one of your healing earrings in Nobium. If that goes smoothly, then we can proceed with having you customize some silver hoops for me. (Yay!)

Regarding the metal taste and immune issues..... I did have my metal fillings removed more than 16 years ago. I have chronic fatigue syndrome--- it started with a flu in my mid 20's that never went away. Since then, I have run the entire gamut of alternative healing approaches. I have (luckily) come to manage my condition and improve it to some degree with homeopathics. My condition is the reason for my multiple allergies and chemical sensitivities.

There have been many, many losses for me in this process. My energy level, my looks, my ability to use every day products, especially things that relate to my femininity, like make up, hair products, body products, jewelry-- to name a few. For this reason I especially appreciate what you are offering. The idea that I can reclaim some of the things that relate to my femininity and womanhood, like earrings, is especially meaningful and precious to me.

I have to tell you how much I admire your proactiveness and trailblazing on this problem. I know first hand how hard it is when you develop an obscure physical problem that medical professionals don't really acknowledge or have an explanation for. You really took things into your own hands and figured out a viable solution. I really respect that. I think you have made a real contribution. I know it will make my life a little better and ease my struggle a bit. Thank you so much for that.



Hi Maggie,
I wanted to tell you that I am allergic to all earrings. I started with my first order of plain titanium balls and they have worked like a charm. Not one problem. I have 1 hole on one ear and 4 on the other ear and I haven't worn earrings in my 2nd and 3rd holes for years. I started with the balls in my first piercing and let them in for about a month without a problem and then last week I moved them up into my 2nd and 3rd holes and haven't had one problem with those either.

I'm so excited. So I'm looking forward to having all my earrings in for the first time in MANY years. I am 35 and have had my ears pierced since I was 9. My allergies started to really kick in during my late 20's so this is pretty exciting for me. I have your page bookmarked and will order when I can – being a bit more expensive it won't be too often but I will always shop with you now!

[Maggie's note: the new website which will launch in January 2009 will provide better prices and a discount program for anyone purchasing more than 1 pair of earrings. This should help with the prices so my customers can better afford to purchase a selection of earrings they Can Wear!]

And, so you know, the way I found your website was I googled the phrase "I can't wear earrings" and that is how I found you! I love GOOGLE! I have shared my news with people and they are just amazed at it. I will recommend you to anyone with allergy problems.



Maggie,
I am thrilled to have found your site. My daughter, Adelaine, who is 4 years old, got her ears pierced on October 5th and two weeks later she started having severe eczema on her ear lobes, all down her arms and on her back. I was planning to take her to the dermatologist to see if the eczema was related to the piercing, and after doing my own research, there was no doubt that it is. Adelaine is a very special little girl…

When she was just two years old, she was diagnosed with cancer and has just finished a brutal 2 year, three month treatment plan. We are thrilled that she is doing great and know that she has been healed! During all that time in treatment, she grew from a toddler to a little girl and has asked many, many times, "When can I get my ears pierced?" Her oncologists wanted her to wait until she was finished with treatments because of risk of infection… so we waited. On October 5th ,my husband's birthday, her big day finally came. She had just completed all her chemotherapy only two months before, so this was a very big day for us all! I cannot begin to tell you how exciting it was for our little girl, who has suffered so much, to finally get her wish!

Thankfully she does not have any infection (yet), but I know that she is having a major reaction to the earrings, which are 14k gold. We have been praying for her, that this would all clear up, so that she could continue wearing earrings. I am very hopeful that YOU are going to be the answer to our prayers. We are hoping that we will receive the earrings really soon. We did not opt for the Express Shipping because money is tight, but if you could please ship them as soon as you are able we would be so grateful.
Thank you so much.

[ Maggie's note: Being moved to help, I refunded her money, donated her earrings to her, and sent them by priority mail that day. You can visit Adelaine's website at www.hope4adelaine.org ]

Reply:
Maggie, you have touched our hearts and blessed us so much by your kindness and caring. I don't even know what to say… Thank you so much!

After reading all the information on your site by others who have had piercing issues, I put earrings on Adelaine that were 14 ct gold hoops, (that I had planned to give her for Christmas) while we waited for yours to arrive. Her ears are already much, much better. The backs to her earrings were apparently not 14ct gold and causing much of her problem, I think. Thanks for letting me know about the lead in the crystals. We am trying really hard to eliminate as many toxins as possible from her life so she won't have any more issues with cancer.

It is wonderful to know that you are in this world caring and doing so much good for people. You truly are an angel! We are very excited about getting your earrings in the mail. I will let you know as soon as they arrive. It will be great to have earrings that we know will not cause her any problems. I would love to mention you on Adelaine's website. I have taken a long break from posting, but plan to get back in the swing of things this week!

God bless you so much. Thank you again,



Hello,
Don't know if you remember me but I pierced my ears a couple of months back with your niobium earrings (after four attempts before with TERRIBLE results!) and my ears I'm happy to say look fantastic! I still don't believe I have them pierced! Thank you so much! .... THANK YOU SO MUCH AGAIN for all your research to make this possible for me!



Hi Maggie,
After receiving the hoop earrings and having some trouble (since I couldn't sleep with them, my ears didn't have time to heal) I ordered some simple posts. They itched a very minimal amount, and the sea salt cured that IMMEDIATELY! Thank you for the warning about Neosporin. I used to carry it everywhere with me and I always put it on my earrings. NEVER AGAIN!!!

I'm actually SHOCKED that I'm able to wear these hoops now! I keep expecting the pain to come back, but it doesn't!Your niobium hoops are gorgeous!!!! Everyone has been complimenting me on the rare look of the metal. They're also saying things like... "Did you do something different with your hair... or your makeup?" because I haven't worn earrings in so many years that none of my current acquaintances are used to seeing me with them!

I also plan to cut my hair short soon. Not being able to wear earrings was keeping me from doing that!!!!! I just couldn't be happier. I'll be ordering more soon so that I have plenty to choose from! Thank you for all that you do!



Hi Maggie,
I just wanted to follow up with you and let you know that you're right, "You Can Wear Earrings Again!" I've still got mine in and it's nearly a year later. It's the longest I've ever been able to keep my ears pierced and it's all thanks to you. I can even wear "other" earrings from elsewhere for the day as long as I put yours back in during the night. And yours are so nice that I often wear them rather than ones I've purchased from local stores. Sometimes I buy other earrings and attach them to the sleeper hoops I got from you. It's wonderful and I wanted to thank you for this gift! Take care



Hi Maggie,
I wanted to send you a quick update on my daughter, not that you will be surprised by this but she is 90% healed right now. Her earrings that you made for us actually dangle and move now and at first they fit right to her ear [because her ear was so swollen]. She is doing great, we even had two episodes where the earring got caught and she panicked a little bit but realized that her ears were not hurting her.

We are forever grateful for the work you do and for your support during our crisis.

As soon as I can down load the pictures I have one for you of our ear crisis and then our ear recovery. We will definitely be placing more orders. I do not think I will be trying anything other than your earrings for a long time.
Thanks Again



Hi Maggie,
I am doing extremely well. I can now wear earrings again, thanks to you! Thanks again, and thanks for the quick turn-around on my orders.



Hi Maggie,
This is great! They've [the healing earrings] been in for 4 days now, and other than some general itching (I think because the holes haven't had anything in them in about 16 years) they haven't given me any trouble.
Thank you so much!



Maggie
Just a quick email to thank you, my ears and now healed and doing well!



Hi Maggie,
Thank you for your email a few weeks ago. I went ahead and had my ears re-pierced 2 weeks ago today. They were very sore for the first few days but now they feel fine. I am so excited! I have not been able to wear earrings for the past 7 years! I've been studying your site (which is very helpful) and want to purchase more! [She did]


[Update:] Hi Maggie,
My earrings arrived her on June 4. Thank you so much. I changed from my starter earrings and I've had no problems. I would like to order two more pairs.
Thank You Again,



Hi Maggie,
I am so glad I can wear earrings again. Hah! My husband loves them too. He compliments me all of the time. I'm actually going to go get a second piercing as soon as these finish healing. Thanks again



Hi Maggie,
Thank you for your contact and quick delivery of our order. I got the earrings for my 10 1/2 year old daughter who got her ears pierced at Claire's 6 months ago. They pierced with a gun and used 14K gold earrings but as we found out later not 14K gold backings. My daughter's ear lobes never looked good in the back of the piercing and then developed an abscess behind one ear lobe.

It was then that I began research on how to manage her skin sensitivity. Your website was the most helpful and her ears now look the best they have since they were pierced. We are thankful for you earrings



Hello Maggie - Don't know if you remember me, but I pierced my ears a couple of months back with your niobium earrings (after four attemps before with TERRIBLE results!) and my ears, I'm happy to say, look fantastic! I still don't beleive I have them pierced! Thank you so much!

I would like to purchase the swarovski pearls and some niobium hooks. I have some dangles already that I haven't been able to wear and I would like to try them on your hooks.

THANK YOU SO MUCH AGAIN for all your research to make this possible for me!



Hi Maggie - I had it on my list to e-mail you today! So far, so good! I'm going to a conference soon and thought I'd get another pair of your hoops. I've also bought some charms that I can hook onto the hoops to fancy it up a bit.

There was one time when one of my ears got sore and there was a little crust, but I just kept doing what I was doing with the sea salt and A&D and it went away quickly. I'm afraid to try anything other than your earrings though! Maybe I'll just keep going with this until there are no issues for a month or two, then try soemthing else. We'll see.

Thanks so much. I can certainly say that if I hadn't googled what to do with ear piercings that won't heal and found you, I would not still have have earrings in! Thanks so much



I ordered simple niobium hoops from you a few weeks ago.I only ordered one pair because I never found earrings I could wear!

My husband got me "titanium" earring for Christmas a couple years ago. The reaction was slower-1 day instead of 10 minutes but the swelling, itching, and seeping was the same. And the irritation lasted for months afterward even though I had no earring in.

We had to return those and just gave up until I found your site. Thanks for figuring what I'm actually allergic too! I've had these hoops in since the day they came in the mail with absolutely no problems. I'll be making many more orders!

[Response] I suspect that the "Titanium" earrings that you husband bought you were alloyed. Many people can heal just fine with Alloyed Titanium, but I, just like you, can not. I am glad that we found each other, and that you are wearing earrings again!



Hi Maggie, I just ordered earrings, dangles for my daughter. She has had such a struggle with her ears and finally last night they are looking so much better. My daughter can finally wear earrings... thank you soooo much!! These will be a Birthday present for her! She will be so happy to get the dangles. Thank you very much.



When I was 9 my mother took me to get my ears pierced. Within a week I had an infection that spread all the way around the outer edge of my ear. My parents assumed I was too young and had failed to take proper care of the piercings. I tried again on my own when I was 15 with the same results. That was when my family doctor suggested an allergy to metals. So I tried switching to hypo-allergenic steel. Obviously it didn't help.

I didn't try again until I found your web site. Encouraged to give it one more effort, I purchased a pair of your black pearls. I even did the piercing myself using a diaper pin (there was so much scar tissue from the first two times I didn't even bleed). Yeah, I have had my ears pierced for three weeks now without any issues! Of course my husband is not happy, he thought he was getting off easy with a wife who couldn't wear jewelry.

Today I purchased a pair of the sapphire and ruby earrings and I am looking forward to expanding my collection. Thank you very much to making me feel feminine again.



I came upon your site today while I was doing my occasional search for ANYTHING to wear in my ears. I am 46 and have had my ears pierced since I was 13. Over the years I have had little to no luck with every possible type of earrings.

Today I tried to put in a pair that my sister gifted me and within 5 minutes my lobes were swollen, burning, sore and pus-filled. This is the usual reaction. Like you, I have short hair so it makes me so sad not to be able to wear earrings.

I ordered a pair of sleepers today and will keep my fingers crossed! I hope yours will be the ones that work after more than 30 years of frustration.

[Update] YAY! I have the pearl dangles in! They are even prettier in person. I was so nervous taking the other ones [healers] out. I didn't use Neosporin to get the new ones in, as I have in the past with other earrings, per your suggestion. So far they feel great, although mind over matter, every time I think about them I'm like OMG ARE THEY ITCHY??? LOL So many years of earring-related anxiety and discomfort.

Thank you!!! I only wish you lived around here so I could buy you a glass of wine. You rock! :)



I TOTALLY appreciate the special pricing that you give me, THANK YOU for the consideration. The fact that you haven't charged me over $50 ever, is a blessing in itself. Thanks so much for hanging in there with me….had it not been for you I would have given up a long time ago!!!! Don't ever go out of business Maggie…you are truly a blessing!!!!

Do you ever think of expanding? I mean there are probably a lot of people out there that you could help! For example, the piercing places here in Rockford only sell "piercing" jewelry…the gauge of the earrings are all really big…no one sells "regular" jewelry…and even if they did they would not have your special pins. When I got my ears pierced the owner of the shop that did my piercing said that he wanted to start selling "regular" earrings for women but hadn't gotten around to it.



Maggie - all is going pretty good and very tolerable. I really don't have that much, if any, itching. My ears are a little sore when I get up in the mornings, but that seems to go away. They really don't bother me when I'm talking on the phone either. Thanks,



Hi Maggie, She [his wife] absolutely loved them and actually slept with them on and she had no problems, which she was so excited about. I am sure we will be buying more as soon as we pay off our xmas spending



I wanted to inform you of the awesome news. My wife has loved wearing earrings again without all of the problems she had in the past !!! So, am I. Your help and quality of product was awesome and I will be ordering many more pair. Thanks again for assisting me in making mine and my wife's holidays very exciting..



Dear Maggie: We got the earrings on the 20th December, just in time for her 24th birthday so that was great. She has tried the titanium hooks with dangles from the $25 shop (YAY). No infections and she is totally stoked (very happy). She is going to give the Niobium ones a shot next week.



My daughter is 8 and has had her ears pierced for almost two years. we have tried 10k gold, 14kgold, sterling silver, the inexpensive ones that say "nickel free" and just recently titanium (which the ones I find in the jewelry stores are not very pretty for little girls). It seems to only seriously affect one of her ears, although the other one gets itchy. They get itchy, red and crusty, then of course she picks at it, it bleeds and eventually gets infected. She's only had the titanium for a few weeks, but the crustieness has not completely gone away. I figured I would try the niobium. I hate to have to let her holes close up.



I wanted to let you know the earrings arrived and I am delighted. You're right - the pictures didn't do them justice - they are beautiful. I've been wearing the rainbows since I opened the box. I really want to wear the other ones - but am having trouble convincing myself to switch from the rainbows because I like them so much.

I had an opportunity to show them to the bride this weekend and she loved them too. Thank you so much, Maggie - for your patience, your talent and your willingness to work with me to find just the right thing.



We received the earrings yesterday and we immediately put the hoops in. So far, no problems. It's the first pair of earrings she's worn (except for the piercing studs) that haven't irritated her ears within a few hours. She LOVES them and I think they're just what she needs to heal her ears.



I received the earrings on Tuesday and my ears are actually healing! I wore the sleepers for 3 days, but just HAD to wear the other pair today. I received so many compliments on them at work! They are comfortable and so well-made! My husband has seen the agony I've gone thru since August and he even suggested I order more earrings....So, your earrings have made a big impression! After all, how often does a husband encourage his wife to shop??!! Just joking, he really adores the quicksand I walk on! Thanks, again! I'll be ordering more soon...



Hi Maggie, I have been wearing your earrings for 10 days now. The earrings went through the existing "holes" with little problems. It went through one fine, and the other needed an extra "push" to come out the back. I haven't had any problems!! I had a couple of itchy times, but they didn't last long (just a few minutes). No redness, swelling, or lymph node problems (that is what happens when I ignore the redness and swelling!). I am so pleased! I can't wait to get other pairs (so look for another order soon). I even changed my hairstyle so that my ears are visible (now that's silly). I am so thankful, not only for the earrings, but for the great advice and followup. So thanks a bunch for all your help!



My ears were pierced for the first time when I was thirteen. I had an immediate allergic reaction. I attempted to wear the 14 ct gold earrings anyway and developed a severe infection. I have pierced my ears 3 other times over the years trying different things: sterling silver, surgical steel, 24 ct gold, rubber backs, plastic sleeves, etc. You name it and I have probably tried it with very painful results. I purchased Maggie's hoops and have had NO problems at all. They have been in for 10 days now with no itching, swelling, redness, or infection! My husband is so happy! Now he can buy me jewelry for presents! Maggie has a customer for life!



Thanks, Maggie! I don't really know what I am doing....I am 52 years old and attempted to have pierced ears many times during my younger years, but my ears would never heal. I had neck surgery in April and now have a titanium plate in my neck, so I thought my allergy to metal had cleared; however, I got my ears pierced again in August and they are not healing. I thought, since I have titanium in my neck, that titanium may work for my ears. I'm on the verge of taking these earrings out and letting the holes close; hence, the rush order [I made to you]! I really hope this works! Thanks for contacting me so quickly! I can't wait to try the earrings!--

I had my husband read your e-mail because it is so rare to find such good customer service! You seem to be a very compassionate and caring person. I'll let you know how the earrings work....Thanks, again!--



Dear Maggie, The earrings are for my daughter, 11 years old. She's had her ears pierced since 4. We've had trouble right from the start-huge infection with the starter earrings, which were surgical steel. Since then I've tried 14K gold & nickel-free. At first, there didn't seem to be a problem with nickel-free, but lately she can't even wear those for a day without having redness & itching followed by a swollen nodule at the site. This will be our first experience with Niobium.

[Update] Dear Maggie, My daughter's earrings arrived Monday, & they are stunning. Just beautiful. We immediately put in the healing hoops (after cleaning), & she wore them for 3 days without a hint of redness, itching, or swelling. So then she had to try the hearts today. She's been wearing them since 8 AM, & they are perfect so far. Usually she would have problems within a few hours. And they look so pretty on. The size is perfect for her small face & ears. So thank you, thank you, thank you! We are so very pleased with our purchase, & we plan to order some earrings for Christmas & birthdays to come.



Maggie, One of my 'life philosophies' is that I try to give back when & where I can. I've learned that something that may seem to me like a small kindness may in fact make a large difference to the recipient. I believe that women need to help each other over the rough spots whenever possible. You have made a difference for me - and for that I thank you. You can bet that everyone at this wedding will know where I got my earrings!!"



Good morning Maggie! I am getting married in October and wanted desperately to find a pretty pair of earrings to wear to the wedding. I ordered two pair from you the end of August, one of each type of metal [niobium & titanium], and was able to wear the first pair I tried on! I am so happy that words just do not express my joy!

You have made this woman very happy! Thank you, thank you, thank you!

By the way… I was playing makeup on Saturday and did my hair and makeup and put on my dress and earrings and I couldn't believe how good the earrings looked with the dress! I was so happy!! We're getting married in two weeks. I'll have to send you a picture afterwards so you can see… they made the dress! ;-)) And added to my glow because I was so happy!!! ;-)))




I received the studs and they are working just fine! Unbelievable!!



Thanks again, Everything looks so beautiful. You've been such a big help, it's nice to have another "friend" in Florida



Thank you!!! I am so excited at the prospect of being able to wear pretty earrings again...it makes me feel so good. Can't wait for their arrival. How are they shipped and when should I start looking for them? I do appreciate your kindness and will definitely let you know how it goes. And hopefully will be buying lots of new earrings. I feel like a little kid waiting for Christmas...Thank you.



Hello, your story is my story. I have so much white gold diamond jewelry and cannot wear. I did have my 1 carrot diamond ring just 2 weeks ago set in Platinum and just love it and can wear with no problem which makes me very happy. I found your site by searching, and you have some really beautiful jewelry. I will book mark for the future. thanks for reading my email. we need more people like you. I am so allergic to nickel it isn't funny and cannot find anything that will work for me that has any style that's for sure. I have tried some nickel free earring and worked for awhile then, bang, broke out with the itching and had to take them out. I am so tired of spending money on jewelry that I cannot wear.




Hi Maggie, Thank you for the superb customer service. I was a bit hesitate to purchase off the web without seeing the earrings, as they are for my husbands birthday Saturday. He got his ear pierced a few months ago and loved the look of them. My ears have been pierced for 30 yrs, I cant wear anything but a loop type because after 2-3 hrs wear, like post earrings of any type, platinum, gold, cheap ones, I get an infection. It happens as I aged.

So as long as air can get thru the holes, I seem to do ok with any type of loops earrings. The post earrings for me is long gone I am afraid, I have diamonds I cant wear anymore because of it. I am interested in trying one of yours on one of my holes to see if it happens and of course my husband will have the other one. I have a total of 4 holes and I can't even use two of them with all the cool earrings out now.

Again your customer service is the best online and offline I have come across in many many years. You have restored my faith in mankind. Thank you!!



Hi Maggie The earrings arrived today and they are beautiful. I know that Ruth will treasure them. Thank you for a very special birthday gift. [Update] Ruth is very pleased with the earrings. She put them in right away and wore them all day without a problem. Thank you so much for a great product.



Hi Maggie, I just stumbled upon your website and I just needed to drop you a quick email to say THANK-YOU!!! I was so excited when I first heard of titanium jewellery for my allergies but was so disappointed when I realized that the only titanium earrings I could find in town were large gage "body-piercing" style barbells etc. Not really my style :) To find a place where I can purchase beautiful artwork like yours makes me so happy I almost cried when I found your site!!! This will be the first time in my life I can finally wear beautiful earrings! Thanks so much again, and I also just wanted to confirm that you ship to Canada? Thanks Maggie for putting a huge smile on my face!



Dear Maggie, I bought the earrings for my daughter, who is eight yrs. old and has struggled ever since we got her ears pierced 3 yrs ago. She does do better with hoops. The nobium hoops really cleared thing up well.



Hi Maggie, I just placed another order. If you can ship the order as soon as possible I would appreciate it. I'm just anxious to put something in my ears. The only earrings I have [she accidentally lost some] are the pearl and crystal pair. As much as I love them, they do not work with casual clothes. I wore them in Vegas with a black dress. I went most of my life without earrings and now I can't seem to go without them. How quickly one can get hooked. (don't mind the pun) I guess earring jokes are up there with math jokes.
[I love this joke!]



Maggie, I am so impressed!! While I can still wear earrings, I react to just about anything [else] anymore. I had a stainless steel medical ID bracelet and I can't even wear that. I developed what almost looked like, and certainly felt like, poison ivy. Hence my suggestion: What is the possibility of Titanium ID tags? You already offer the watches, so the chains are readily available! I would love to know if you can get such an item! Amazing site, I will be ordering earrings as soon as I have some extra cash!



Maggie, I just received your earrings in the mail, they are beautiful and I can't wait to wear them. Again, thank you for all your information. You have been very helpful. Good luck to you with your business. I love your website.



Hi Maggie, I just wanted to thank you again so much for the beautiful earrings. The remainder of my order arrived yesterday and I'm wearing them today! They are lovely and you do such a wonderful job!



Hi Maggie, I received the Alexandrite earrings as well as the amethyst crystal ones. As usual, they are gorgeous and I'm very pleased! Thank you very much for all your hard work and special attention!



Maggie, Thank you so much for the quick turnaround and the great product. My wife said "You can tell her I love them. I put them on the day you gave them to me and haven't taken them off since. I haven't been able to do that with earrings since around 1995".



Maggie, I would like to thank you so very much for all of the excellent customer service and wonderful product that you produce! You went above and beyond to accommodate me and help me out and I really appreciate it. As I've mentioned before, this is the 4th time that I've had my ears pierced. All the other times didn't work because I could never keep the studs in longer than a week or two. Thankfully, I discovered your earrings, had my ears pierced with titanium studs and then ordered your product after my ears healed. And it worked!!! I am so thrilled to be able to wear earrings again. Thank you for everything you have done.



Hi Maggie, I received my earrings last week and they are beautiful! The best part is, after 3 days, my ears are healed! I must admit, I was still a bit skeptical even after your reassuring emails that these earrings would not irritate my ears. It's just that I have been disappointed so much in the past with "sensitive skin, nickel-free" earrings I was almost ready to give up hope! But once I put them in, I could tell that these were different. No instant burning/itching/bleeding, which was the norm for me for years. After the backs of my ears were healed (I kind of had to repierce the backs) I completely forgot about them, until this morning when I looked in the mirror and realized I'd had them in for almost a week with no problems! I just wanted to write you to thank you for creating these earrings for those of us who have metal allergies, I've missed wearing earrings so much and I can't wait to order more. :)



Hi Maggie Just thought I'd let you know that my earrings are great and I have had them in constantly since they arrived and I have not had a single problem. So glad I visited your site and have given your card to a friend who has same metal allergies. Will be ordering more earrings in the future. Thanks



Maggie, Thank you again so much for your help & the very useful information! I would recommend you and your services to any one.



Maggie, I am so excited about getting the butterflies [earrings]! I have gotten pierced several times over the last 20 years...each time letting the holes close up because, aside from piercing studs, absolutely everything infected my ears. It's weird...I've been told that the piercing posts are made of surgical steel, but then I'd buy earrings with surgical steel posts, and my ears would swell up like rashy pumpkins.

About a year ago, they had been closed up for over 10 years. I decided I wanted to pierce them again, figuring I'd just leave whatever they were pierced with in permanently, or just buy a variety of piercing studs. I went to a tattoo parlor and had them done with a needle, and they use the surgical steel hoops instead of studs, so I've had them in this whole time, and refused to take them out until I could find some pretty, girly earrings.

The guy who pierced them suggested titanium, and I started reading up on it and the other metal that you use [Niobium]. I looked all over the internet for earrings with titanium hooks. I figured I could buy earrings and just swap the hooks out. While doing that, I found your site. I love your earrings!

[Response] Thanks for your story! I am so excited for you too! Let's keep those rashy pumpkins away from you! Just a little info... The piercing posts you purchase from the piercing professionals are much more hypo-allergenic than the replacements you might get at the mall. I suspect this is what is happening to you. It's all in the way we are allowed to "label" our items in this country. Did you know that it is perfectly legal for merchants to label their jewelry as "Nickel Free" as long as it has less than 5% of Nickel. Ridiculous. Someone who is allergic does not want to have even 1% of the toxin in their jewelry.

I honestly don't know why there aren't more sites like mine on the internet today, but I suspect we will be seeing more and more Titanium & Niobium on the market in the next couple of years. I simply have 100% success. There are so many people like us who are sensitive to earrings. I even have a little 2 year old girl who can't even wear plastic, but she can wear my Niobium!


[Follow-Up] Maggie, Just got them, love them, love them, love them!! Thanks.



Hi Maggie, I am hoping these do the trick!! I have had my ears pierced 4 times and each time have had to let them close up because I have problems – even with super expensive earrings!! I would love to wear earrings again (for more than 2 weeks after each piercing!), so these are my last hope! Thank you

Follow Up: Hi Maggie, I received my [post] earrings yesterday and I already love them! I just put in another order [this time] for hoops, which you should be receiving soon. Thank you.



The earrings work great, thank you very much. Finally found a pair that wont bother my ears. Thanks again



Maggie, I have just looked at your website and I am quite impressed with your story and your beautiful jewelry, particularly the titanium and niobium earrings.



Dear Maggie, The earrings are beautiful! I am not having any problems at all. Thank you so very much!



Maggie, I have unsuccessfully had my ears pierced twice in the past & got them done again a week ago with 14K gold, hypoallergenic studs. I started breaking out a few days later, itching, blisters, the whole nine yards. My piercer advised me that it would be best to keep these particular earrings in until the healing period was over. I'm obviously very sensitive.

[Note: It is always best to follow your piercers instructions for healing a piercing, if at all possible. However, I do recommend switching to Titanium if you just cannot wear the gold piercing earrings, or better yet, get your ears pierced with Titanium in the first place, it is readily available on the market now.]

I thank you so much for your help. It was reassuring to see that I'm not the only one who has such sensitivities to earrings. Thank you again. You are really providing a wonderful service.

[Response] Higher karats of gold (14k & 18k) are "hypo-allergenic" which means less likely to cause an allergy than lower karats (12k & 10k) Niobium, and Commercially Pure grades of Titanium are "NON-allergenic" meaning there is nothing in them to be allergic to. I think you will see Niobium & Titanium becoming much more popular in the next few years. There are so many people with allergies, and it's getting worse. That's why I decided to make my earrings available to the public.




Hi, Maggie. The earrings arrived and they are lovely. When I first put them in, one of my ears did react, possibly because there has been no earring in it for a long time. I coated the wires with Neosporin and put them in again the next day, and since then there has been no pain or reaction at all. I'm very happy with them. It is great to be able to wear earrings again. Thanks again.

[Response] I am so happy for you! I have found that it takes about 3 days to get used to wearing earrings again. Generally the reaction we get during those 3 days is minimal, and subsides completely thereafter. While you are getting used to them, keep them clean and dry with water and a clean towel each day, then at least once a week after that. www.wear-earrings-again.com/caresheet.html You may not want to sleep with them since the dangles are alloys and could come in contact with your skin during sleep, and cause a reaction. Thank you for the update, and keep in touch and let me know of any questions or concerns.



Dear Maggie, Thanks so much for all of your kind assistance! Your "hands-on" experience and insight is a great help, too. Hope I haven't wasted your time checking out possibilities.

[Response] No you have definitely not wasted any of my time. I like to know what questions and concerns are out there about my products/services. I use the experience for quality control. And my only goal is helping everyone who asks, to wear earrings again.



Maggie, I'm just really excited that I found something after all these years that will work for my ears! Thank you.



Maggie, Thanks for your help with my first order this winter. Your products are fabulous. I'm ordering more.



Maggie, I just got home and opened the earrings you made for me. They are absolutely beautiful!!! I have not yet put them on as I am to wait until the middle of June before I remove the [titanium] studs that they pierced my ears with. The stones are so beautiful -- your workmanship is meticulous. They are going to be so pretty with my necklace and dress. Thank you, thank you, thank you. I'm sure you'll hear from me again with another order, but I want to make sure my ears are compatible with these [niobium] first. I can hardly wait to wear them.



Dear Maggie, I just found your site. My daughters are allergic to all that you discribe. We are going to give niobium a whirl… One of my daughters has thick ear lobes, and I was wondering if you have Post Earrings for thick earlobes. I saw your wonderful assortment of hook and hoop earrings, but it looked as though all your posts were standard in size. When we got her ears pierced, the girl said that she needs to wear extra long posts for thick ear lobes. Please let me know.

[Response] I make the Niobium posts myself, since they are not yet manufactured and available on the market, so I can make them any length you wish. I am sending the longer posts, as well as a "new concept" posted earring, that requires no back at all.

Follow Up: My daughter is wearing the new concept earrings and likes them. The new concepts fit because you don't need a back on it. The Niobium seemed to work very well for her. She said there is no itching, and she is very happy. My other daughter loves how light they are.



Hello Maggie, How exciting to have my very own personal earring shopping website. The earrings look perfect. I am looking for a pair that I could wear everyday. I'm still wearing the titanium without any reaction. I am ready to try the niobium. Thanks again for all the special attention. ps. I forward all of your emails to my daughter at UVA.



Hi Maggie, The Pearl earrings arrived thursday. They are absolutely beautiful. I just bought another pearl and sterling necklace (macy's has great sales) and the earrings match perfectly. I will be wearing them on May 6th (my cousin's wedding). The women from Dragonfly made wedding earrings for me and I would like to keep them because they are a perfect match to the other necklace. If I mailed them to you would you be able to change the hook to niobium?

[Note] This customer ended up excepting posts better than hooks, so a Titanium Post/Ball/& Loop was attached to the earrings instead. She loves them and has ordered many more earrings from me since.



Hi Maggie, I was thrilled to receive my earrings yesterday (Monday) in the mail. They are beautiful. I'm wearing the aquamarine today. The plastic backs are a little tight when taking the earrings on or off, but I'm sure I'll get used to it. [Note: you can put a little petroleum jelly on the post for lubrication for the very first wearing. It should be fine after that.] I look forward to ordering more earrings from you in the future. And thank you so very much for the "military discount!" What a kind gesture! Not many people put their money / business behind their support for the troops. I appreciate it.

Thanks again, the earrings are amazing!



Hello Maggie, I have received my earrings. I hope I can wear them. I am unable to wear simply whispers so yours are my last chance. My ears bleed and get crusty with other earrings. I am a red head with all the skin sensitivities. Can't wear gold.

Follow Up: I must say I had my doubts when you said my ears [allergies] would be healed in 3 days. You were right. I followed your directions to the letter. I bought 2 pair from another company and had the same problem. I had my fingers crossed with yours. My ears are no longer crusty or sore. After wearing the other earrings for only a few hours my ears would be sore, bloody, and crusty. My ears actually feel better with yours.

Many thanks.

I haven't been able to wear earrings in several years until I tried yours. I can now sleep in the earrings. First time in years I could keep a pair of earrings in my ears over 6 hours and not get sore crusty bleeding ears. I will buy more pairs now that I know I can wear them.

Thanks!!!!



Dear Maggie, You are my last resort. In 1988 my 8 year old daughter wanted to get her ears pierced. Of course she would not do this unless I got mine pierced too. Being the good mother I agreed. For the next year we both went through a variety of metals, with one negative reaction after another. We finally decided it was not worth the discomfort and we both removed the earrings and never put earring on again until this Christmas.

She will be married (she's now 26) Oct. 2007, and she really wanted both of us to be able to wear earring for the wedding. Believe it or not the holes that we both got in 1988 had never totally closed and we were able to get earrings in. Again we tried surgical steel, white gold and silver with no luck. And then She found your website. Just the mention of nickel free made her try earrings from Target. It seems all of Target's earring are nickel free. [note: The term "Nickel Free" is given to any jewelry that contains less than 5% nickel, for someone with a nickel allergy, this is not be pure enough. Gone are the days of honest disclosure]

She had such success. She has been wearing Target's earring for the past few weeks and her ears are fine. I am thrilled for her. At least we know the bride will be wearing earrings. I did not have such luck. The mother of the bride is still struggling. Thank you in advance,

Follow Up: Hi Maggie, I have great news. I have had the posts in since last Fiday night (six days), and my ears feel great. It seems amazing to me. I did put a little moisturizer (home made with all natural ingredients) on the back of my ears for the first couple of days. I think I still had a slight rash left over. But all is cleared up now. I don't even feel them.
Thank you for all the great advice



Maggie, I don't have sensitivities to jewelry, but the dangle earrings with the beautiful wire work I purchased from you are so unique! I just had to have them. Thanks.



Maggie, I can't beleive that after only 3 days, I actually forgot I was wearing earrings! Just like you said! I haven't been able to wear earrings for years. I am so happy that you found out about Titanium & Niobium and have made your earrings available online for the rest of us too. I am so thrilled to be able to wear them again. I hope other companies will start selling them too. [Me too]



Hello Maggie, I bought earrings from you a year or so ago, and found that after wearing them for a little while, I was able to wear my gold earrings again. So I gave the earrings I bought from you to my grand-daughter who also has jewelry allergies. She loves them and wears them all the time. Anyway, recently my ears have been bothering me again and so I need some more pairs. I don't do the computer thing, so can you just make me a pair of hoops with crystals on them. I wear alot of red, white, and black. And make a matching pair for my grand-daughter too would you?
Follow Up: I received the new hoops. They are beautiful. You are a great designer. Thanks!



Mags, I have always had a problem wearing Gold & Silver earrings, all of my life, so my Mother always bought me Platinum. I have never been able to wear any other color earrings, so I really love the anodized colors (expecially the gold & bronze) of the Niobium & Titanium.
Thanks!





Order online, by mail, by email, or by phone.
Pay online, by mail, or by phone.

See My ORDERING Page for Details.



BACK TO TOP